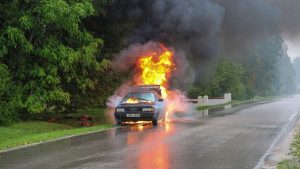 On June 12, Massachusetts State Police received a report about a multi-vehicle accident involving injuries. The incident was reported to the department around 8:20 in the morning.
Emergency responders were dispatched to the scene quickly, and, upon arrival, they discovered that one of the cars involved in the crash had caught on fire as a result of the crash. Fire crews proceeded to put out the fire as EMTs administered medical care to the one individual who had been injured in the accident. The extent of the injuries is still under review. However, no fatalities were reported. The accident occurred on I-495 northbound in Chelmsford.
Authorities closed the right lane as the scene was cleared. The normal flow of traffic resumed within the hour.