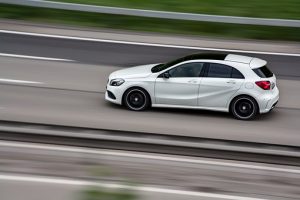 Lowell, MA (July 7, 2018) – A hit and run victim in Lowell who suffered serious injuries in a crash earlier this week has been identified.  On Tuesday, a woman was riding a motorized scooter along Middlesex Street around 10:00 pm when she was struck by a dark colored Mercury Sable passing through the area.  The Mercury Sable fled the scene immediately after the crash.
The injured victim is 46 year old Donna Bettencourt of Lowell.   Bettencourt sustained very serious injuries including a broken pelvis and a nearly severed leg.  Doctors are still considering amputation if her leg does not respond to additional treatment.
Police are still searching for the hit and run driver.  On Friday, they released images of the suspect vehicle but have yet to make any arrests.