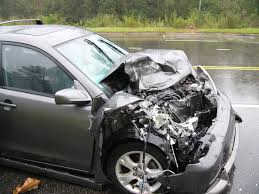 Lowell, MA (July 5, 2018) – A car struck a home in Lowell, Massachusetts on Tuesday resulting in injuries to one person.  The collision happened on Bridge Street around 11:00 pm.
According to Lowell Fire Captain Paul Laferriere, the vehicle traveled off the roadway for an unknown reason and crashed into the home.  It is unknown if the home was occupied at the time of the crash.  Police and EMS responded to the crash.  The driver was transported to a local hospital with injuries which are not believed to be life-threatening.
Lowell police have not released any additional information on this crash or what may have caused the driver leave the road and crash into the house.  They say that more details will be available after the written crash report is filed.