More than a dozen years ago, a teenager was paralyzed in a single-vehicle crash after being thrown from the closed sunroof of her sport utility vehicle. She and her family filed Hankins v. Ford in a federal court in Mississippi, alleging her severe personal injuries were the result of a defective sunroof that was unreasonably dangerous and defendant car maker was negligent in failing to warn them of the risk.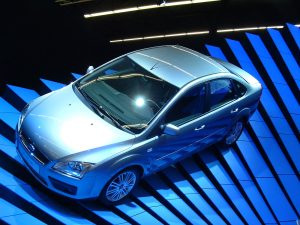 The case dragged on for years, but ultimately ended with Ford prevailing under the argument that there is no government regulation that requires a sunroof (even one that is closed) to keep occupants inside a vehicle, particularly in the event of a rollover crash.
Fast-forward to today, and there are still no government regulations that require sunroofs to be safer, despite the fact that there are hundreds of ejections via sunroof every single year.
Furthermore, sunroofs are increasing in popularity, and some manufacturers are even widening the range of sunroofs in vehicles to give occupants a "panoramic" view. The New York Times reports approximately 7 million (or roughly 40 percent) of cars and light trucks made in 2017 had a sunroof. Per WardsAuto (an industry publication), that's compared to 33 percent of vehicles sold with sunroofs in 2011. Statistics regarding the number of sunroof-related crashes there have been aren't as fresh, but we do know that between 1997 and 2008, an estimated 300 people were killed and 1,400 were injured when they were tossed from a sunroof. That's according to data from the National Highway Traffic Safety Administration in 2011.
Another study published in 2016 indicates that during the decade ending in 2012, an estimated 230 people died and 500 were seriously injured every single year when they were thrown through a closed sunroof.
NHTSA regulators told the Times they were looking more closely at whether federal standards for structural integrity of sunroofs would improve safety. The agency also said it is launching an analysis of ways to prevent ejection of passengers (most notably by looking at rollover crashes). But that has to begin with the collection of new data, particularly because sunroofs are not only getting bigger, but picking up steam in popularity.
It's not the first time the NHTSA has ever said it would look into this problem. In 2011, the agency laid out rules and manufacturing standards aimed at lowering side window ejections and at the same time considered putting sunroof regulations into effect. They ultimately decided not to do that, citing the fact that its information shows only 3 percent of ejection deaths involved sunroofs, while more than 60 percent involved side windows. To be fair, that data is 20 years old.
The decision not to pursue action on sunroof safety caused a great upset among traffic safety advocates, who pointed to a 2005 mandate by Congress to the NHTSA specifically to take action against the dangers of being ejected in a vehicle. They said the decision to overlook sunroof injuries and deaths was a clear avoidance of that mandate. The agency responded that enacting sunroof standards was "not reasonable," partially because it had no way to test safety.
The Hankins Case
Plaintiff in the Hankins personal injury case said that while she enjoyed the sunroof at first, she tended to keep it closed as time wore on. She doesn't remember the crash that caused her permanent paralysis and facial scarring as well as partial blindness. However, evidence at the scene appears to indicate that her vehicle rolled over, and when it did, the glass panel sunroof simply popped out and she was ejected through that opening.
In her lawsuit, plaintiff argued the vehicle manufacturer should have at least used laminated safety glass, which is the same type of material that is used to construct car windshields. She further asserts the windshield should have been more tightly anchored to the vehicle frame. Her attorneys contended the auto giant has been aware for many decades that installing that plastic layer of film between two layers of glass was safer than plain old tempered glass. But rather than installing laminated glass, they continued to use the tempered glass because it was cheaper.
To prove this failure to warn, plaintiff needed to establish by a preponderance of the evidence that:
The product lacked adequate instructions or warnings;
This lack of warning rendered the product unreasonably dangerous to the user or consumer;
Defendant's negligence was the proximate cause of plaintiff's damages.
As noted by that state's supreme court, plaintiffs have to show that some other warning would have given the injured person or decedent additional information they didn't already have and that they would have acted upon that new information in a manner that would have avoided the injuries.
Although the question of whether a warning is adequate is usually a matter of fact for a jury, in some cases judges have decided it before trial as a matter of law. Ultimately here the court granted a defense motion for summary judgment on the failure to warn claim (specifically pertaining to the glass and the higher risk of rollover in an SUV), agreeing with Ford's stance that the risk of ejection in a sunroof is open and obvious and its warning of a high rollover risk was printed standard on vehicle visors and in the manual. It was noted plaintiff didn't read the manual and although she stated the visor warning was not on her vehicle, the court found no evidence finding it wasn't on the vehicle when it left Ford's hands (she had purchased the car used).
Sunroof Airbags?
Even if federal regulators don't enact strict standards, automakers can take initiative on their own, which some are doing by floating the idea of sunroof airbags. Hyundai and Kia are expected to have them installed in 2019 models.
If more companies continue to do this, it may be grounds to assert negligence in a product liability case against those who do not.
But even if automakers start doing this on their own, there is nothing to stop the government from addressing this issue with formal and required standards. Any issue that causes 200 to 300 deaths annually is a deadly one that deserves the attention of our leaders.
If you have suffered personal injury in Massachusetts, call Jeffrey Glassman Injury Lawyers for a free and confidential appointment — (617) 777-7777.
Additional Resources:
Sunroofs Are Growing in Size and Popularity. Rules Haven't Kept Up. Feb. 22, 2018, By Christopher Jensen, The New York Times
More Blog Entries:
Assumption of Risk is Not a Defense in Boston Personal Injury Cases, Feb. 5, 2018, Boston Car Accident Attorney Blog