Whether your vehicle has mechanical difficulties, you blow a tire, or get stuck in the snow, it is important to stay safe when your car breaks down on the side of the road. Throughout the year, but especially during the winter months, drivers in Boston and nationwide face the potential dangers of a winter break down. In addition to inclement weather, the dangers of hypothermia and frostbite, drivers and their passengers have to stay clear of oncoming traffic and other road hazards. One of the most terrifying events can be a car break down on the interstate–do you know what to do?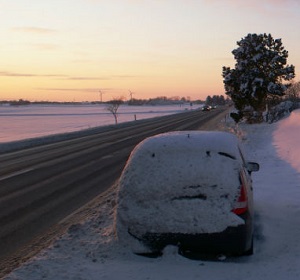 While you have seen driver stranded on the side of the road, have you considered your own action plan in the event of a roadside emergency? Our Boston personal injury attorneys are dedicated to protecting the rights of our clients and to preventing future injuries. We will investigate accidents or injuries on behalf of our clients and work to recover maximum compensation for victims and their families. In addition to our advocacy, we are committed to raising awareness to prevent future collisions, injury and wrongful death.

The best way to prevent a future injury or accident is to be prepared. Here are some tips to keep you and your family safe in the event of a winter car break down.
Move your vehicle to a safe location. When your car breaks down, you should evaluate the scene. It is best to be on the emergency right shoulder rather than blocking traffic. If you cannot move your car because it is stuck, do not stay in the vehicle.
Abandon an unsafe vehicle. If your car is stuck in the snow or it cannot be removed after a break down, you should look for a safe place. You may wonder if it is safer to remain in your vehicle, given temperatures. When deciding whether to remain in a vehicle consider alternatives, including walking to the nearest shelter. If you do stay in your vehicle, turn on hazards and wear a seatbelt.
Be wary of oncoming traffic. One of the biggest dangers for drivers of broke down vehicles is getting struck by an oncoming vehicle. Be careful when you get out of the vehicle, keep your hazard lights on, and stand as far away from the road as possible.
Call for help. Your priority should be your own safety and towing your vehicle. If you feel that you are in danger, especially if you are blocking traffic, then call 911 first. A 911 operator can quickly dispatch an officer who can help you get to safety, block traffic, and get your car towed.
Invest in AAA. If you are a frequent driver, you should consider a membership to the American Automobile Association (AAA). AAA or "Triple A" can provide immediate roadside assistance for drivers nationwide. You can call operators for towing, fuel delivery, battery jump, or if you get locked out of your vehicle. This is an expensive and efficient way to quickly deal with common vehicle problems.
Be aware of your location. When driving long distances, especially at night, keep track of where you are and what road you are on. When describing your location, remember the last off ramp, describe local businesses, or look for call boxes and mile markers.
Always be prepared with an emergency box, especially in cold weather. You should have extra blankets, water, a shovel, matches, a cellphone, flashlight and supplies you may need during an emergency. If you musts walk to the nearest gas station or pay phone stay on the right shoulder and remember that drivers may not be able to see you.
Contact our Jeffrey Glassman Injury Lawyers for a free consultation to discuss your rights. Call 888-367-2900.
More Blog Entries:
A Concussion is a Serious Brain Injury, Boston Personal Injury Attorney Blog, December 7, 2013
New Booster Seat Recommendations from the IIHS Impact Massachusetts Parents, Boston Personal Injury Attorney Blog, November 20, 2013