On November 23, 2012, a Columbia Gas Co. worker responded to reports of a gas leak in the Springfield entertainment district. The worker followed markings intended to identify the location of the gas line and, working an appropriate distance away from where the gas line was supposed to be, used a metal tool intended to drive a hole to see if any gas was leaking outside. The tool, which was supposed to discover the source of the gas leak, unfortunately punctured a high-pressure gas line instead. A devastating explosion resulted, causing damage to 42 buildings and injuring 20.
According to USA Today, Columbia Gas Co. reported that the worker followed proper protocol and did what he was supposed to do. Unfortunately, the markings indicating the location of the gasline was outdated, thus leading to the terrible explosion.
Our Boston personal injury attorneys are concerned for the victims of this explosion and are also concerned that this explosion is a harbinger of things to come.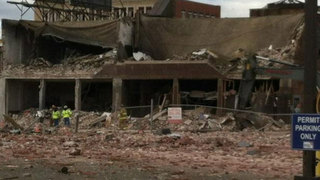 The infrastructure in many major cities is aging, and CleanTechnica recently reported that Boston University and Duke University Researchers had identified more than 3,000 gas leaks in the aging pipelines within Boston. Natural gas leaks present very real dangers to people living near them, and explosions like this recent Springfield explosion may begin to occur more frequently if steps aren't taken to make gas pipelines safer.
The Springfield Natural Gas Explosion
The Springfield natural gas explosion was a major one, with WDHD quoting a witness who described the aftermath as similar to the effects of a hurricane. Windows were blown out in buildings within a three block radius; a strip club was flattened; a daycare was severely damaged and three large buildings were damaged beyond repair. A six-story apartment building and more than 115 housing units were all affected by the blast.
Despite the massive destruction of property, however, those in the vicinity were relatively lucky as there were no fatalities in this explosion and only around 20 injuries. Most of the people who suffered injury were utility workers, police officers and fire fighters who took cover behind a utility truck immediately prior to the explosion. The truck was demolished, but saved the lives of the workers and the first-responders. Many lives were saved as a result of swift action on the part of the utility workers and firefighters in evacuating residents and individuals in nearby buildings.
The Consequences of the Natural Gas Explosion
With 42 buildings immediately condemned and 24 others requiring additional evaluation by structural engineers, this explosion caused millions of dollars in property damage. Those who were injured will also incur costs for treatment. Columbia Gas Co. intends to open a claims center on Monday for businesses and residents who were impacted by the explosion.
Those injured in a natural gas explosion may have legal recourse against the company that was responsible for the accident. Injured victims may recover damage for their financial losses as well as for other losses resulting from pain and suffering and medical expenses.

If you have been injured, contact Personal Injury Lawyer Jeffrey S. Glassman for a free and confidential consultation to discuss your case. Call 877-617-5333.
Additional Resources:
Massachusetts Traffic Watch: Safety Around Snowplows, Boston Personal Injury Attorney Blog, November 23, 2012
Boston Drowsy Driving Prevention Week — Young Motorists at High Risk, Boston Personal Injury Attorney Blog, November 16, 2012