In a recent case from the Maine Supreme Judicial Court, plaintiff was injured when she slipped on ice that had accumulated in front of her dorm room.  Her accident occurred on January 17, 2014. This date is important, because this case deals with a notice requirement when filing against a state or municipal defendant.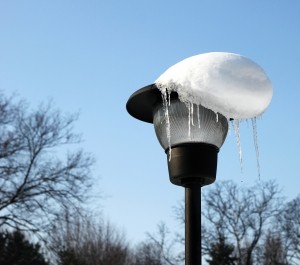 On February 3, 2014, plaintiff's father contacted the university's risk management office about his daughter's injury.  In his email, he notified the school that his daughter broke her leg and tore a ligament.  He further informed the school in his email message that she required surgery to repair the damage from her slip-and-fall accident.  He also stated that he expected the school to assume liability for his daughter's injury, as it was their responsibility to make the walkways safe in campus areas.On February 6, 2014, a representative from the university's risk management department responded to plaintiff's father and said that he was sympathetic to her injury and requested that she personally file an incident report. The representative also asked if victim's father intended to file a legal claim, but father said he did not intend to involve legal counsel, because he had faith the university would cover the medical expenses voluntarily.  The university representative did not respond to this email.
On March 18, he finally responded saying he was not ignoring the situation or the incident report that was ultimately filed.  At the end of March 2004, a university representative called plaintiff and took a recorded statement. As our Boston personal injury lawyers can explain, it is not uncommon for insurance companies to call accident victims very soon after the accident to take a recorded statement.
This is often done via telephone.  While you may need to make such as statement, it is advisable to first speak with an experienced personal injury attorney before speaking with the insurance company claims adjuster, because the insurance company adjuster is not likely to have your best interest in mind.  In reality, they are often far more concerned with their respective financial bottom lines than your obtaining a full and appropriate financial recovery following a serious personal injury.
In this case, the school did not compensate plaintiff for her injuries for the slip-and-fall accident, and she filed a personal injury lawsuit.  The action was technically a premises liability lawsuit under a theory of negligence.  Defendant moved for summary judgment asking that the case be dismissed. In a motion for summary judgment, there can be no genuine dispute over material facts, so the judge must look at the evidence in light most favorable to the non-moving party.  In this case, the non-moving party is plaintiff, because she is not asking for the case to be dismissed.
The basis of defendant's dismissal motion was that plaintiff had failed to satisfy the state imposed 180-day notice requirement.  Trial judge granted defendant's motion for summary judgment and dismissed the case.   At that point, plaintiff appealed, and the state supreme court affirmed trial court's grant of defendant's motion for summary judgment on grounds that plaintiff had not shown good cause for not giving timely notice of her claim.
If you have suffered personal injury in Massachusetts, call Jeffrey Glassman Injury Lawyers for a free and confidential appointment — (617) 777-7777.
Additional Resources:
Steagald v. Eason, March 6, 2017, Supreme Court of Georgia
AD v. UMS, March 28, 2017, Maine Supreme Judicial Court
More Blog Entries:
Slip-and-Fall Injury Suffered by Child Litigated Years Later, April 2, 2017, Boston Premises Liability Lawyer Blog