The MBTA recently launched theFront Door Only Policy, to try to get more riders to hand over their fares. The policy started on April 17th 2012.
Recently, too many riders have been skipping out on their dues and taking the rides for free. Under the new policy, riders using the above-ground stations on the D-branch of the Green Line are only allowed to board at the front door. This policy is applies to off-peak hours, holidays and weekends. Currently, the front door only fare collection policy is being pushed on other parts of the Green Line.
From 6:30 a.m. to 9:30 a.m. as well as from 3:30 p.m. to 7:00 p.m., which are considered peak hours, riders will be allowed to board at the rear and side doors as long as they have a pre-loaded CharlieTicket, a CharlieCard or another valid pass, according to the Massachusetts Bay Transportation Authority (MBTA).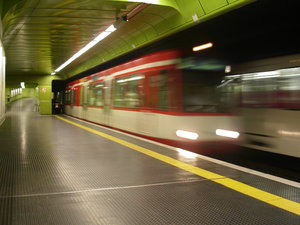 During our last winter season, the MBTA started conducting monthly "fare blitzes" to try to enforce fare collection for all riders and to help to remind customers that they need to be paying these fares to use the system. With the front door policy and the fare blitzes, the MBTA will be continuing on in its effort to enforce collections on all transit fares.
As the MBTA says, "It's only fair…pay your fare!" Fares are used to keep the MBTA up-to-date with the latest advancements and safety measures. These fare funds help to keep you safe while using its services to help to avoid an MBTA accident in Quincy and elsewhere throughout the state.
Our Quincy personal injury lawyers understand that the MBTA offers prime transportation for many residents and visitors to get around the area. The MBTA offers riders with quick, easy, convenient and inexpensive ways to get to where they need to be. It's important for riders to pay the fare to help keep the MBTA's safety advancements up to date. Your fare helps to fund a safer ride.
Info on the Front Door Only Policy:
-Where: All above-ground stations throughout the D-branch of the Green Line.
-When: Off-peak hours, holidays and weekends.
-Why: To help enforce the collection of all riders' fares.
-Extra: Riders with disabilities and those with strollers will still be allowed to exit through the rear and side doors.
MBTA Train Riding Tips:
-While you're waiting for a train, be sure to stay in a central location where other riders can be found. Safety can be found in numbers. Never ride alone.
-When riding during off hours, stay as close to the train operator as you can.
-If someone is bothering you during your commute, move to another car and notify the train operator.
-Remember that you can contact the operator of the train by using the intercom located on each train car. Train operators are also in constant contact with the MBTA Transit Police.

Boston Injury Attorney Jeffrey S. Glassman can be reached at 877-617-5333.
More Blog Entries:
Risks for MBTA Accidents in Boston Up with Ridership Increase, Boston Personal Injury Attorney Blog, April 12, 2012
Boston Accidents May Increase with Uptick in MBTA Ridership, Boston Personal Injury Attorney Blog, March 1, 2012