An Attleboro man was seriously injured after a swing collapsed last week at a popular outdoor bar.
The man suffered a head injury after being hit by a falling pole at Lawn on D, a popular bar at the Convention Center. WHDH reported two women were on the swing at the time. The man was sitting next to the swing while visiting the bar after marching in the Pride Parade. He suffered a concussion and a serious head wound that required emergency medical care.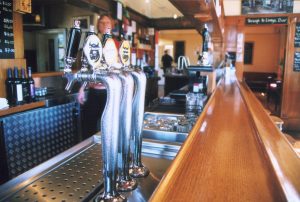 The Massachusetts Convention Center Authority, which operates the bar, told media the incident was the result of a mechanical failure. The Authority said new safety features had been put in place and that the swing was inspected every week.
Our personal injury lawyers in Boston know these types of cases are most common through the height of the summer months, as we take vacation, enjoy outdoor venues and participate in large gatherings and planned and sponsored events.
Massachusetts Premise Liability: Injury on Business Property
Boston personal injury lawyers know the MCCA's statement after the incident was largely geared toward avoiding liability. The authority is essentially contending the injury was the result of a defective product. While making a product liability claim may be possible (we recently discussed the types of dangerous product claims on our legal blog), the most common type of claim for such an incident would be a premises liability claim.
Massachusetts premises liability law classifies customers as "invitees," and requires businesses provide them with the highest duty of care. This includes regular inspections to address any dangerous or hazardous conditions. Other types of property visitors include licensees (social guests and friends) and trespassers, both of whom are owed a lesser duty of care than guests invited to commercial property to conduct business for benefit of the property owner, lessee or occupant.
Massachusetts premises liability claims most commonly proceed on the grounds of negligence. Proving negligence requires victim to prove defendant owed a duty to use reasonable care, and that breach of that duty resulted in compensable injuries to the victim. These cases are typically proven by showing a defendant business or property owner had actual or constructive knowledge of a dangerous condition and failed to remedy it. Constructive knowledge means a dangerous condition existed for sufficient time for a reasonably prudent person to have discovered it.
A frequent defense in these cases is comparative negligence. If a defendant business can prove a victim was 50 percent or more at fault for accident or injury, a victim cannot collect damages. Even in cases where a victim is found less than half at fault, a potential damage award will be reduced in proportion to victim's blame, which can provide a partial win for the defense.
Another common defense is that a danger is open and obvious. In this case, if the victim had been on the swing and injured by falling, for example, a business might have argued defendant accepted the risk (and a victim's attorney may well have agued putting an adult swing in a bar was creating an undue risk of injury).
So a victim's best move is to seek out qualified and experienced legal help. Interactions with the business, even if simply seeking offered help with medical care, may be used against a victim in court. For example, your offer to settle for payment of emergency room bills may be presented to the court as a formal settlement offer, or proof that you did not believe you suffered lasting injury.
This case is further complicated by the fact that the facility was owned by a government entity. M.G.L. Title IV Chapter 258 governs sovereign immunity in Massachusetts. The Massachusetts Tort Claims Act limits sovereign immunity and generally allows damages of up to $100,000 in cases of negligent acts caused by employees. There is a growing body of case law governing many types of actions against the government in Massachusetts. In some cases, courts have found immunity and damage caps only exist in cases where injury results from a basic function of government (not from operating a bar or nightclub, for instance.)
Identifying Defendant Liability for Property Injury
However, premises liability laws also hold parties other than municipal or commercial entities accountable. Dog bites and swimming pool accidents are examples of premises liability claims that commonly proceed against homeowners. Landlords also have an obligation to the safety of tenants under Massachusetts law, and case law has established liability for known dangerous conditions, even if those conditions were present and known at the time a tenant accepted a premises as a rental domicile.
As we can see from our discussion of this case, these are complex claims. Choosing an experienced premises liability law firm is best done in the immediate aftermath of injury. As this case illustrates, safety upgrades and inspections are likely to change the scene significantly and eliminate evidence of liability or wrongdoing in the wake of a serious or fatal accident.
Two of the most common types of Massachusetts commercial premises liability claims:
Slip and Fall: Falling is the most common cause of accidental disability among adults. Falls are also the leading cause of liability against commercial property owners. While this is a well-understood area of law, property owners too often use that knowledge to mitigate liability, rather than to address dangerous property conditions likely to result in injury.
Negligent Security: Victim is injured as a result of assault or criminal acts that were foreseeable given the past history of an event or location. (In this case, for instance, had the victim been injured as a result of large crowds attending the Pride Parade, it might be argued that the need for better crowd control measures at surrounding businesses was reasonably foreseeable).
Determining who is responsible for property injuries is a complex process best left to a Boston personal injury law firm with extensive experience litigating these types of cases. Commercial enterprises and property owners often carry liability insurance well in excess of $100,000 (with $1 million being common). However, business owners seldom accept fault when an injury occurs. Seeking experienced legal advice will best protect your rights and ensure those responsible are made to compensate victims and guests for resulting damages and injuries.
If you have suffered personal injury in Massachusetts, call Jeffrey Glassman Injury Lawyers for a free and confidential appointment — (617) 777-7777.