The Massachusetts Bay Transportation Authority (MBTA) may be extending its hours if Governor Deval Patrick gets his way. While he sees this move as staying ahead of the game and providing convenience to users, many say that it's only going to cause more delays and frustrated riders.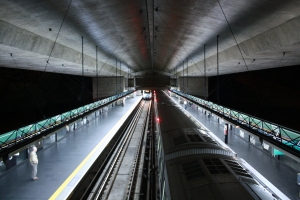 According to WGBH, MBTA workers use the early-morning hours to make sure that everything is set and working properly. They prep the cars for rush hour.
Our Quincy accident attorneys understand that the nighttime hours are used by officials to replace faulty power cables within the T, like the ones that would up shutting down the T during a busy morning back in January. With the Governor wanting to increase the working hours of the T, when are crews going to perform maintenance and take care of preventative measures to help to eliminate those shutdowns and other problems a busy transit system like this often faces?
As it stands now, maintenance and repair crews with the MBTA are working to correct old and aged infrastructure — and reducing their work time may increase accident risks.
"We have a three and a half to four-hour window to get this work done. So it's get in, get the cable out, get the cable in, and get out of the way," said John Martin, superintendent of power systems and equipment station support for the T.
There are roughly 1,000 miles of cables that work to bring power to these trains, switches and signals. Unfortunately, there are only a few hours in the night where this kind of work can be done. That only allows crews to work on a few hundred feet a night. At that rate — the project will take years.
It's important that we replace these cables now — as many of them are more than 50 years old.
Currently, there are over 500 MBTA workers who get the job done each night. They're in charge of signal repairs, track maintenance, cable replacement and much more.
The MBTA set aside more than $240 million in the Fiscal Year 2013 to help to make the much-needed repairs, but that's not enough. Officials estimate that it's going to take more than $3 billion in maintenance to get it to where it needs to be. Not only are we lacking the funds, but now officials are working to limit the hours that these crews can work to make out transit system safer for users.
As you may not have known, Boston is the birthplace of American mass transportation. It's important that we continue to set the example and lead the country is safe mass transit. And one of the most important roles is making sure that we're provided the proper maintenance to our historical system and keeping it up with the demands of users today.

If you or a loved one has been injured in an MBTA accident, contact Jeffrey S. Glassman for a free and confidential consultation to discuss your rights. Call 877-617-5333 today!
More Blog Entries:
New App Proves Successful and Convenient for MBTA Riders, Boston Personal Injury Attorney Blog, December 17, 2012
MBTA Adds New Cameras to Improve Personal Safety, Boston Personal Injury Attorney Blog, December 8, 2012