Officials with Boston University and the City of Boston are continuing their effort to keep the 1.5 mile-long campus safer for travelers. They're working to calm traffic on the main campus. They're going to continue the focus on pedestrians and cyclists by encouraging these forms of transportation and raising awareness of their vulnerability. Part of these efforts include more highway reflectors, enhanced bike-lane markings and new signage throughout the area.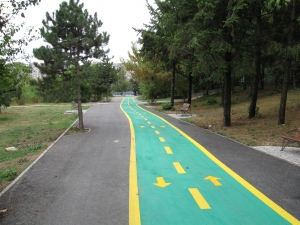 "I am hopeful that these changes will help protect bicyclists and pedestrians traveling along this very busy stretch of Commonwealth Avenue," said Dr. Robert A. Brown, the President of Boston University.
Our Boston pedestrian accident attorneys understand that many residents and visitors to the area rely on their own two feet (or two pedals) to get to where they've got to be. Boston is a busy city and driving around isn't all that pleasurable — not to mention it;s very time consuming. The problem we've been having in our area for a while now is the complete disregard for these kinds of travelers. It's important that all travelers — especially motorists — understand that both pedestrians and bicyclists have a right to our roadways and those rights need to be protected.
The new measures to achieve safer roadways for these travelers comes from recommendations from the City of Boston and Boston University, They've been working to urge President Brown and Mayor Menino to take action for safer roads. This movement launched after a number of bicyclist and pedestrian fatalities in recent months — including the death of a BU student last year.
New safety measures have the City of Boston implementing a pilot program in the area to expand bicycle lanes. As part of the proposal, they're also working to get new signs declaring high bicycle and pedestrian traffic — to remind drivers to share the road and to yield to bicycles as well.
They've also worked on getting better bike-lane road markings — with the goal to have every bike lane and crossing area painted with a high-visibility, non-skid green paint. Safety advocates believe that this green paint will help to draw attention to and raise awareness of these riders. They've also worked to expand the bike-lane markings from 4 to 6 inches.
The truth of the matter is that bicycling ridership has increase in the area by more than 80 percent from 2007 to 2011. It's important that we keep the focus of safety on these riders.
Boston University is helping, offering close to 20,000 bike-safety items to locals, including reflectors, bicycle lights, flashlights and even helmets. Throughout the campus, there are signs reminding riders of safety tips and special safety days.
It's a group effort and while these vulnerable travelers are putting in the work to make our area safer, we're asking you to join the fight. It's a never-ending battle without your help.

If you or a loved one has suffered bike injury in the Greater Boston area, contact the personal injury attorneys at Jeffrey Glassman Injury Lawyers, LLC for a free consultation to discuss your claim. Call (617) 777-7777.

More Blog Entries:

Spring Gives Rise to Boston Child Bicycle Injuries , Boston Injury Attorney Blog, March 25, 2013
More Bike Safety Efforts Encouraged After Fatal Massachusetts Bike Accident , Boston Injury Attorney Blog, January 2, 2013