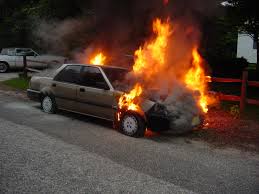 Leverett, MA (July 8, 2018) – One person was sent to the hospital early Saturday morning following a crash that left a car engulfed in flames.  Leverett police say that the accident happened on Cave Hill Road.  The driver crashed into a telephone pole after swerving to avoid a deer that had run into the roadway.  The car caught fire after striking the telephone pole.
Officials with the Leverett Fire Department responded and were able to remove the driver from the vehicle.  The driver was transported to a nearby hospital for evaluation.  There were no other vehicles or passengers involved in the crash.  There is no word on the extent of the injuries as of Saturday evening.
Boston Injury Attorneys
Animals can be a common site on roadways all across our state.  All drivers have, at some point or another, been faced with a collision or near collision with a deer or other animal crossing the road.  Nationwide, over 200 people are killed each year after being involved in an accident with a deer.  The trend becomes higher during deer mating season, which typically begins in the fall.  Unfortunately, an accident involving a deer can be very hard to avoid as the animals seemingly come from nowhere and appear in front of your vehicle suddenly, leaving you with little or no time to react and avoid the collision.
We will have to wait for any updates on this accident and the extent of the injuries before we can say that the driver walked away unscathed.  We are certainly hoping for a quick and full recovery from any injuries that were sustained in the crash.
At the Jeffrey Glassman Injury Lawyers, our firm handles a variety of injury accidents, including single vehicle collisions which occur through no fault of the driver.  We want to assist you as you work through one of the most difficult and trying times of your life.  When you hire our firm there is no fee unless you recover.
If you would like to speak with someone about your Massachusetts personal injury claim today, please give us a call at 617-367-2900.  The call is free and we would love to hear from you.  Our firm is always open.
Note for readers: Information provided in this post is gathered from secondary sources and not independently confirmed for accuracy. Please bring to our attention any inaccuracies that may be included so they may be corrected, or information removed as requested.
DISCLAIMER: Information provided in this post is not intended to be used as legal or medical advice, nor disrespect the victims or families in any way.  We are providing this post for general information on everyday tragedies and presented in a manner to protect and honor the victims and their families. Minor differences can change the outcome of cases, based on jurisdictional laws.  The information provided in this post should not be relied upon as legal or medical advice. We suggest seeking assistance from legal or medical professionals for your personal circumstance, when necessary.