According to a recent report in the Boston Herald, one of the world's leading Ebola experts was serious injured in an all-terrain vehicle (ATV) crash. Prior to her accident, she had just given a presentation on genetics research involving Ebola.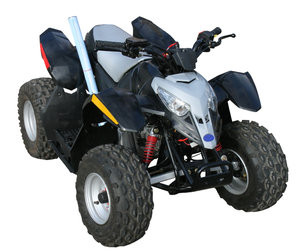 Following her talk, she went with a tour group on an ATV tour through the mountains. She was a passenger on one of the ATVs being used for the tour. As they were riding in the tour, her ATV collided with a curb, and the driver lost control. It drove off a cliff and tumbled down its face. Fortunately, they crashed into trees that prevented her from falling to her death, but she was seriously injured.
The first thing she did was attempt to call for help, but she realized that she couldn't speak. At this point, she realized she had suffered a serious personal injury. As she hung precariously on the side of cliff, unable to speak or move, she waited for rescue workers to reach her position. It took them approximately 45 minutes to reach her and get her back on stable ground. During that time, she sang to herself keep herself from passing out.
When first responders got her on flat ground, they immediately transported her to a level-one trauma center, and she was taken into surgery. She would need four successive surgeries during her first week in the hospital, as she had suffered a shattered pelvis, shattered left knee, and broken right knee. She described how she was in so much pain that she begged to her mother she be allowed to die. She also said, at night, she would dream of the accident and relive it her head over and over again, as it caused severe emotional trauma.
After getting through the initial pain and multiple surgeries, she has a long road of recovery ahead. At first, she was living in a rehabilitation center, and, even now, spends five hours of every day at the Spaulding Rehabilitation Hospital in Boston, along the banks of the Mystic River.
If you are injured while participating in an organized activity in Boston or the greater Boston area, you should speak with an experienced personal injury attorney.   One of the most important and complicated aspects of these cases involves dealing with any liability waivers that may have been signed. In an organized activity run by a company, including things like Segway tours through the city, participants are often required to agree to a waiver limiting the company from any and all liability. However, these days you are not generally presented with a waiver to sign. You may be given a waiver on the back of ticket, and it says by using the ticket, you agree to the terms, or it may also be a box to check on a computer screen associated with a 50-page wavier you can't possibly be expected to read.
While these waivers may be deemed effective, it does not mean that they will always be effective, and your personal injury attorney in Boston can look at the wavier in your particular case and let you know if you have a valid case.
If you are injured in an accident in Boston, call Jeffrey Glassman Injury Lawyers for a free and confidential appointment — (617) 777-7777.
Additional Resources:
Car crash leaves Ebola researcher with own struggle, November 16, 2015, Boston Herald, By Lindsay Kalter
More Blog Entries:
Wilkins v. City of Haverhill – Massachusetts Supreme Court Weighs Slip-and-Fall Claim, May 23, 2014, Boston Personal Injury Attorney Blog