Due to a rise in deadly car accidents on April 20th around 4:20 p.m., a sort of holiday for marijuana enthusiasts, Massachusetts law enforcement asks drivers to exercise caution on today.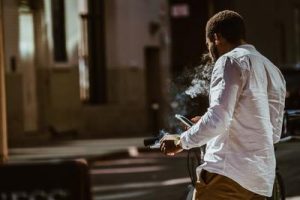 Now that recreational marijuana is legal in Massachusetts, marijuana dispensaries are set to open in the next few months across the state.
However, law enforcement have been against the legalization since 2016 and continue to alert drivers that operating a motor vehicle while under the influence is still illegal. It is also incredibly dangerous. The Governor's office released a statement advising the public of the following:
"Driver responsibility plays a huge role in keeping our roads safe – whether we're talking about marijuana or alcohol – and we want to remind drivers not to take the wheel if they are impaired in any way."
A study in the Journal of the American Medical Association found an approximate 10 percent increase in deadly car accident on April 20 after 4:20 p.m. This is because marijuana impairs a driver by causing a slower reaction and impairs coordination.
Massachusetts State Police superintendent Kerry Gilpin informed the public that law enforcement officers will be pulling over drivers who are "driving dangerously and putting others at risk."
If you have been victim of an accident caused by an impaired driver in Massachusetts, the liability of the impaired driver is relatively easy to establish where law enforcement is involved. Law enforcement agents are skilled at identify impaired drivers, test for blood THC levels and collect evidence for driving under the influence (DUI). Often, police reports will explain if the collision has been caused by an impaired driver.
The attorneys at the Law Offices of Jeffrey S. Glassman offer free consultations for victims of impaired driving accidents. Call us at (617) 367-2900 for your consultation.
Note for readers: Information provided in this post is gathered from secondary sources and not independently confirmed for accuracy. Please bring to our attention any inaccuracies that may be included so they may be corrected, or information removed as requested.
DISCLAIMER: Information provided in this post is not intended to be used as legal or medical advice, nor disrespect the victims or families in any way.  We are providing this post for general information on everyday tragedies and presented in a manner to protect and honor the victims and their families.  Minor differences can change the outcome of cases, based on jurisdictional laws.  The information provided in this post should not be relied upon as legal or medical advice.  We suggest seeking assistance from legal or medical professionals for your personal circumstance, when necessary.