Whether you have recently taken up biking during the pandemic or are a seasoned pro, the bicycling lawyers at the Law Offices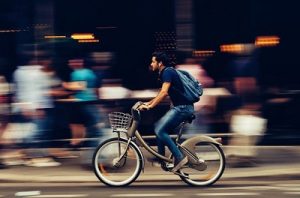 of Jeffrey S. Glassman have some safety tips for biking in the age of coronavirus.
The coronavirus pandemic has changed life as we know it. Because people are working from home and not going out as much as they once did, the roads around Boston and other cities around the country have experienced a drop in traffic.
Across Massachusetts, there has been a 20% decrease in vehicles on the road when compared to last year with Boston showing a drop of nearly 50%.
With less congested roadways coupled with public transit options that make it hard to social distance, people are looking for new ways to get around and stay in shape.  This has to create a boom in bicycling. Experienced bicyclists are taking to the streets more often while those new to biking are going out and buying new bikes and gear.  In fact, many big-box department stores are sold out of bikes while local bike shops are reporting a surge in sales. Some have even compared bicycles to toilet paper, which was in high demand at the beginning of the pandemic.
Do not-as-busy roads mean that bicyclists are safe? Not so fast. Even without having to dodge a large number of speeding cars that might not be so agreeable about sharing the road, bicycling doesn't come without its share of risk.
However, there are steps that you take to keep you and your family members safe when traveling on two wheels.
Coronavirus Concerns
When it comes to keeping safe in the age of COVID-19, you'll want to make sure you're biking with people living in your household and that all bikers are healthy and not experiencing any signs of illness.  If you're biking with people outside your house, you should keep a safe distance, maintaining social distance, and keeping a mask on.
Avoid crowded trails and parks where it is difficult to stay away from others. It is also a great idea to wear a mask.  There are special masks for cycling and other sports, though these may not be designed to prevent COVID transmission. Even if you don't plan on wearing a mask on your ride, put one in your pocket in case you need to stop and interact with others.
If you're renting a bike or using a bike share program such as Bluebikes in the Boston metropolitan area, it's a good idea to bring antibacterial wipes to disinfect the bike's handlebars, brakes, seat, and other high-touch areas. Health experts also recommend that you sanitize your hands after riding and wash them with soap and water as soon as you are able.
Use Your Head and Wear a Helmet
Certainly, you'll want to make sure that your bike and your family's bikes are safe and in good working condition. If the bike has been sitting idle in a garage, a safety check and tune-up by a professional are advisable.
A properly fitting helmet is critical to protecting yourself from serious injury. Studies show that helmets can reduce bike accident head injuries by as much as 50% and head, neck, and face injuries by more than 30%. Helmets protect against various types of head trauma, including dental injuries, concussions, skull fractures, and even death.  Helmets wear out and are only warrantied for one significant impact.  New technology, like MIPS (Multi-Impact Protection System) protect cyclists far better than the older models.
Bike shops have technicians who can make sure that you have the right type of bike helmet for the biking that you plan to do and that the helmet fits correctly. Helmets should be replaced every three to five years or if they show signs of damage. The National Highway Traffic Safety Administration has information on fitting your bike helmet.
In Massachusetts, bicyclists 16 years of age are required to wear helmets. You can read more about Massachusetts bicycle laws at mass.gov.
Other recommended safety gear includes bike lights (even during the day), bright-colored clothing, and gloves to keep you visible to other roadway users.  Protective eyewear is always a good idea.
Keeping Safe on the Road
If you have not been on a bike for a long period of time, you should practice in a safe area, at least until you get the hang of things again.
When you are out on the road, follow all traffic laws, and obey traffic signs, signals, and street markings. Bicyclists are expected to follow most of the same rules of the road as motorists.
Ride in the same direction as traffic and in a single file if you are riding with others. Use bike lanes when possible, but be aware that bike lanes don't provide total protection. A recent study by the Insurance Institute for Highway Safety looked at different types of bike paths and evaluated their risk level. For example, IIHS found that street-level protected bike lanes have a high risk of injury while conventional bike lanes tend to be safer.
Be on the lookout for anything that could pose a danger such as cars braking in front of you or opening doors into your path. Scan the road for potholes, debris, or anything that can cause a crash. Avoid distractions by staying off your cellphone and other types of tech.
Learn hand signals and use them when turning or stopping.
What Should I Do If Hit by a Car While Biking?
If you are hit by a car while biking, you should move out of the street and into a safe spot. Call 911. Even if you feel okay, you should be evaluated by medical professionals. Your adrenaline will be surging after an accident, which will mask your pain response.
Get the driver's contact information and insurance information. If the driver leaves the scene of the accident, try to get the license plate number. Ask any witnesses for their contact information.
After you have been checked out and cleared by medical personnel, make sure your bike is safe to ride before pedaling home. You should have your bike inspected by a professional before you get back on the road again. You might not notice cracks or other damage, but a professional bike mechanic will.
To learn more about Jeffrey Glassman Injury Lawyers, LLC, contact us at (617) 777-7777 or through our online form. Our law office has been helping injured bicyclists for more than 30 years.