Recently, we wrote about the risks of parking lot accidents. However, parking lots are far from the only risks that come with the holiday shopping season.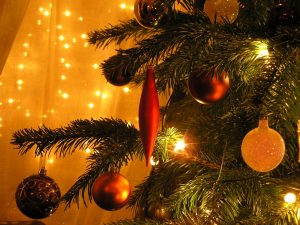 The risks of injury on commercial or retail property spike during the holiday shopping season for a variety of reasons. Winter weather brings the risk of ice, snow, standing water and wet or slippery floors. Overstocked shelves and displays create risk of being struck by overhead merchandise, which can result in very serious injuries. Crowds and short tempers can lead to falls, assaults, or other injury risks.
Black Friday has been particularly dangerous in recent years, as stores promote outrageous deals to draw large crowds. Employees and customers alike are at risk of injury. Nor do the risks abate once you return home. We bring more new products into our homes during the year-end holidays than at any other time of the year, making dangerous or defective products another common risk, particularly for children's toys or products otherwise marketed to children. From Thanksgiving fryers to New Year's Day fireworks, dangerous products are a much more common risk than many consumers would like to believe.
Premises Liability Claims in Massachusetts
Massachusetts premises liability claims are negligence claims that seek to hold a business owner, landlord, property owner or manager responsible for dangerous conditions that result in serious or fatal injuries. Common types of property injury include slip and fall, stairwell or parking lot accidents, assault, dog bite and drowning. Careful documentation is often critical to success in such claims, making early consultation with an experienced Boston injury lawyer critical. Business owners owe a duty to use reasonable care to prevent foreseeable injury to lawful guests. Proving a premises liability claim will require an injury victim to prove a property owner either knew of a dangerous condition or should have known about it, typically because it existed for a sufficient length of time to be discovered. This can make the time element critical in such cases. Because business owners are likely to quickly correct a dangerous condition following an incident (and videotapes and other evidence may exist for only a short time), careful documentation is best done in the immediate aftermath of an incident.
Defendants and their insurance companies often use a two-prong approach to defending such claims. First, they will argue a danger was "open and obvious (thus negating duty to warn). Secondly, they will argue a victim either caused or contributed to injury. Under M.S. Chapter 231 Sec. 85 victims found partially at fault are deemed to be contributorily negligence, and may have a damage award reduced by proportion of fault.
Landowners or business owners may also be held responsible for accumulation of ice and snow, or icy or dangerous parking lots, walkways or sidewalks, when an injury accident occurs. In cases of assault, a negligent security claim may result in a damage award for injuries sustained in cases where reasonable safety precautions were not in place, or where a history of crime or violence was not responded to in an appropriate manner by a business or property owner.
Dangerous or Defective Product Claims in Boston
Each year, the Consumer Product Safety Commission issues hundreds of product recalls. Products most frequently recalled include children's toys and clothing. Other recalls involve hazardous chemicals, fuel or fireworks, furniture, home maintenance and construction products, kitchen and dinning products, sports and recreation products and products marketed for use by older adults. Common injuries include carbon monoxide poisoning, fire, electrocution, suffocation or choking, and pediatric poisoning.
This month, as the holiday shopping season gets underway, the CPSC released its annual report on toy-related deaths and injuries.
Last year, the federal product oversight agency reported 12 toy-related deaths and more than 250,000 hospital emergency room visits after toy injury. About two-thirds of injuries occurred to children 12 or younger. Head or facial lacerations were the most common reason for emergency room visits resulting from toy injuries.
Consumers can review the CPSC's recall list here. 
When a product is faulty, but does not result in injury, Massachusetts laws of implied warranty of merchantability and implied warranty of fitness give you certain rights. The Massachusetts Consumer Guide to Shopping Rights offers advice about truth in advertising; pricing, refund and cancellation policies; warranties and other dispute-resolution tips. But when a product causes serious injury, reaching out to an experienced Massachusetts injury law firm can best help determine your legal rights.
In 1946, Massachusetts adopted the rule that a manufacturer of any product could be held liable if the product was defective and reasonably capable of inflicting substantial harm. The rule is lack of reasonable care in the manufacture of the product. Carter v. Yardley & Co., 319 Mass. 92, 64 N.E.2d 639, 164 A.L.R. 559 (1946). Thus, a defective product claim can be made against any responsible party in the supply chain, including the manufacturer, distributor, marketer or seller. A claim asserting breach of warranty and merchantability is the most often used theory of product liability under Massachusetts law. To prove such cases, plaintiff (victim) must show a merchant sold or leased a defective product, that plaintiff's use was foreseeable, and that product defect resulted in plaintiff injury.
A seller or manufacturer may also be held legally responsible for negligent acts or omissions involving the way a product is marketed or sold.
Under General Laws chapter 93A, § 2 , a claim can be made under the commonwealth's unfair or deceptive trade statute, which outlines obligations under a warranty. Such claims may result in paid legal fees and/or double or triple damages when bad faith can be established. The complexities of federal and commonwealth statutes governing dangerous and defective products make it advisable to seek the advice of a Massachusetts law firm with significant experience and a track record of success in handling such claims.
If you are injured in Massachusetts, call Jeffrey Glassman Injury Lawyers for a free and confidential appointment — (617) 777-7777.