A police chase began in Haverhill this evening after shots rang out at law enforcement officers.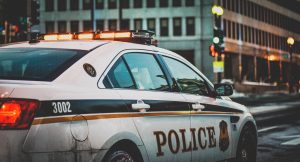 This occurred on Interstate 495, with the pursuit continuing onto Interstate 93 northbound. The pursuit ended on Route 111 with the fleeing suspect crashing.
The Haverhill Police official statement can be read below:
"At approximately 21:30 hours, officers on patrol in the Acre neighborhood came across an individual firing a handgun from a motor vehicle at an unknown target. Haverhill officers gave pursuit, at which time the suspect began firing at the officers in pursuit. Shortly after crossing the border into New Hampshire, the suspect vehicle crashed, at which time one suspect fled the vehicle into the woods and a second suspect was apprehended. Police are currently searching a wooded area in New Hampshire for the second suspect. At this time there are no reported injuries to any officers involved in this incident."
Massachusetts State Police were also involved in the pursuit. There were two individuals in the fleeing vehicle, and only one has been captured. Numerous law enforcement authorities are searching for the second suspect who fled the scene.
Accidents During Police Chases
If a civilian is injured during a police pursuit by either the fleeing suspect or the police vehicle, compensation for injuries from the fleeing suspect can be recovered. Typically, a Massachusetts personal injury lawsuit will also seek remedy from the owner of the vehicle is the driver is not also the owner. However, in police chases if the fleeing suspect is evading arrest in a stolen vehicle, then the vehicle owner would not be responsible for any injuries to innocent bystanders. This is because clearly the owner did not give permission to use the vehicle, and any resulting injury cannot be put on the owner.
The police officers may also have some liability to an innocent bystander. If the police officer or officers failed to follow standard procedures, or fell below their duties as taught in training, and as a result a bystander was injured, then they can be sued. This is because falling below these standards and duties constitutes negligence. Often this means, they would need to stop chasing the fleeing suspect in certain road conditions or areas because it is more dangerous to the general public, than picking up the pursuit by air or other means.
Collecting compensation for injuries in a police car chase can be complicated. For assistance with your
police pursuit
personal injury claim, contact the knowledgeable attorneys at the
Jeffrey Glassman Injury Lawyers
. You can receive a consultation at any time by calling (617) 777-7777.
Note for readers: Information provided in this post is gathered from secondary sources and not independently confirmed for accuracy. Please bring to our attention any inaccuracies that may be included so they may be corrected, or information removed as requested.
DISCLAIMER: Information provided in this post is not intended to be used as legal or medical advice, nor disrespect the victims or families in any way.  We are providing this post for general information on everyday tragedies and presented in a manner to protect and honor the victims and their families. Minor differences can change the outcome of cases, based on jurisdictional laws.  The information provided in this post should not be relied upon as legal or medical advice. We suggest seeking assistance from legal or medical professionals for your personal circumstance, when necessary.