There are more than 10,000 lawsuits that have been filed regarding the premature failure and other complications of the DePuy ASR hip replacement system.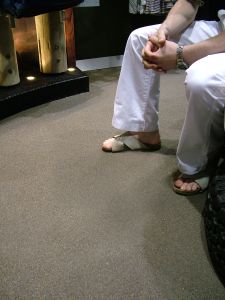 Our Boston DePuy ASR hip replacement plaintiff lawyers understand the first of those has set a promising precedent: An $8.3 million verdict in favor of the plaintiff. This verdict is likely to open the door to future settlements in the case with parent manufacturer Johnson & Johnson.
With so many cases pending, the company is likely to want to speed up and resolve the pending litigation. Seeing that plaintiffs are having success in court means it's less costly for them in terms of time and lawyers fees to simply settle a claim before it ever gets to court.
Court documents in this case revealed that Johnson & Johnson, as well as DePuy, were aware of critical design flaws in the product that would result in early failure – years before they initiated a recall on the ASR model. In fact, DePuy knew that the product had failed internal testing as far back as 2007. And yet, according to The New York Times, the company continued to sell the product without disclosing to doctors the results of those tests.
Those internal tests showed that the ASR model was probably going to fail within five years on about 40 percent of the patients who received it. Compared to the failure rates of most other orthopedic implants, the DePuy ASR was eight times higher.
These devices are metal-on-metal, with a metal ball inside a metal pocket. The inherent problem is that the cup had only a small surface area in which the ball could move. In turn, that increased the risk for the ball to grind against the cup, which generates metallic debris and further erosion. The production of debris, additionally, resulted in shards of chromium and cobalt being released into the nearby tissue, which resulted in swelling, inflammation and even poisoning.
In this case, the plaintiff's hip implant was installed sometime in 2007. Immediately after the surgery, he knew something wasn't right. He suffered severe complications, which included extreme pain, difficulty with walking and metallic poisoning. In order to have the device removed and replaced, he had to undergo a risky revision surgery.
It wasn't until August of 2010 – some three years after DePuy and Johnson & Johnson knew about the defects that would lead to situations like this, that the devices were actually recalled, some 93,000 units.
The trial stretched several days, after which the Los Angeles jury awarded the plaintiff nearly $400,000 in economic damages and $8 million in non-economic, or punitive, damages.
Of course, DePuy has announced its intention to appeal. It would, since it's never accepted responsibility. Our Boston hip replacement plaintiff attorneys believe they have little chance at success.
A second trial is underway involving a 54-year-old nurse from Illinois who had the device implanted back in 2008.
Andrew Ekdahl, president of DePuy's orthopedic products unit, testified before a Chicago jury in that case that the reason for the recall was that the revision rate, or the number of patients who had to return for corrective surgery, was "not acceptable."

If you suffered the ill effects of a Depuy hip replacement in Massachusetts, call Jeffrey Glassman Injury Lawyers for a free and confidential appointment — (617) 777-7777.
Additional Resources:
First DePuy ASR Trial Ends in $8.34 Million Verdict for Plaintiff, March 12, 2013, By Eric Chaffin, Legal Examiner
More Blog Entries:
Boston Injury Lawyers: Z-Pak Heart Risk Warning From FDA, March 13, 2013, Boston Personal Injury Lawyer Blog