A new Centers for Disease Control and Prevention report on bicycle-related traumatic brain injuries has determined that more adults are dying in bicycle crashes.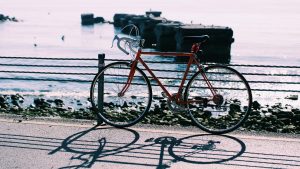 Notably, the study, which analyzed data from 2009 to 2018, also found that:
Doctors treated approximately 600,000 individuals for bicycle-related traumatic brain injuries in hospital emergency rooms in the United States.
The rate of emergency department visits dropped by almost 50% among children, but only 6% among adults.
Male cyclists were three times more likely than their female counterparts to find themselves in an emergency department with a traumatic brain injury.
Policies mandating bicycle helmets are associated with long-term, sustained helmet use and as much as a 50% decrease in head injuries.
CPSC says data highlights the importance of wearing helmets
While most people who sustain traumatic injuries in bicycle crashes experience a full recovery, many have ongoing symptoms such as confusion, memory loss, fatigue, headaches, sensitivity to light, and personality changes.
The Consumer Product Safety Commission says the report shows how important it is for adults to wear helmets when cycling or engaging in other sports or recreational activities.
CPSC says cyclists purchasing a helmet should look for a label stating that the helmet meets the agency's federal safety standard.  This label usually is located on the helmet liner, the exterior surface, or chin strap. All bicycle helmets manufactured after 1999 must meet this standard. These helmets protect against skull fractures and severe brain injuries when used correctly.
CPSC offers these other tips for buying and wearing bicycle helmets:
Always choose safety over style and avoid bicycle helmets with unnecessary elements that stick out like horns or mohawks. While these helmets are fun in appearance, their protrusions may prevent the helmet's smooth surface from sliding after a fall and could cause injury. For that same reason, never add stickers, coverings, or attachments that are not included with the helmet because they can interfere with the helmet's performance.
Ensure that your helmet fits properly. The bicycle helmet should be comfortable, but snug, and should not move back to front or side to side.  The helmet should sit on the top of your head.  If you have trouble fitting the helmet, adjust the straps and air bladders or use the foam padding included with the helmet as per the manufacturer's instructions.  Bicycle shop staff can help you fit the helmet.
Buy a new helmet after a fall. Unlike certain other types of helmets, bicycle helmets are single-impact helmets, which means they protect against the impact from only one fall. When a bicycle helmet strikes the pavement or other hard surface, the foam material inside the helmet crushes as it absorbs the impact. Even if the helmet looks okay, the cyclist should replace it, as the helmet's warrant is void and its ability to protect you in a crash is suspect.
Helmets do not last forever. Follow the manufacturer's guidelines regarding how long the bicycle helmet should last and replace the helmet if it is cracked or faded or has worn straps, missing pads, or crushed interior foam.
In addition to helmets, the CDC says other safety interventions may reduce bicycle-related traumatic brain injuries, including improvements in bicycling infrastructure and interventions to get drivers to comply with traffic laws.
If you or a loved one has sustained an injury in a bicycle accident, call Jeffrey Glassman Injury Lawyers, LLC to schedule a free legal consultation at (617) 777-7777 or complete or electronic form.