Another early morning accident, yesterday, out of Lynn has been reported.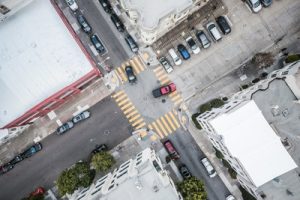 The collision occurred at Cowdrey Avenue and Lynnfield Street, outside a 7-Eleven.
The car accident happened at shortly after 7 a.m. on April 17th. There are no further details on the incident.
Intersection Car Accident Lawsuits
Massachusetts intersection car accidents are of a different breed of car accident statistics. It is not always the fault of a single driver. There can be a defect in the design of the highway, road, or even pavement that prevent safe operation of a motor vehicle in the intersection. If the road is defective, this means that maybe signs have not been placed in a conspicuous manner causing confusion for traffic. Lack of posted speed limits can also make the intersection more dangerous. If there is an overgrowth of brush, or a hill, this can impair the ability to see oncoming traffic. It is clear that there are many things to consider in an intersection collision, this is why it is important to hire a knowledgeable Massachusetts personal injury attorney if you are injured in an accident.
Intersection car accidents are ripe for insurance adjusters to wiggle out of paying a claim. For this reason you need the aggressive attorneys at the Law Offices of Jeffrey S. Glassman to protect your rights. The attorneys can negotiate for the best possible outcome, and maximize your settlement. Therefore is you have experienced an intersection car accident and have been injured, call our attorneys today at (617) 367-2900 and tell us your story.
Note for readers: Information provided in this post is gathered from secondary sources and not independently confirmed for accuracy. Please bring to our attention any inaccuracies that may be included so they may be corrected, or information removed as requested.
DISCLAIMER: Information provided in this post is not intended to be used as legal or medical advice, nor disrespect the victims or families in any way.  We are providing this post for general information on everyday tragedies and presented in a manner to protect and honor the victims and their families.  Minor differences can change the outcome of cases, based on jurisdictional laws.  The information provided in this post should not be relied upon as legal or medical advice.  We suggest seeking assistance from legal or medical professionals for your personal circumstance, when necessary.