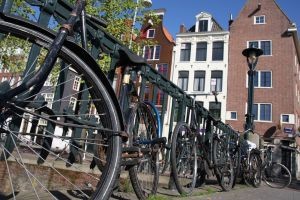 Cambridge, MA (June 28, 2018) – A bicyclist in Cambridge, Massachusetts was hurt on Wednesday when they were struck by a car door.  The bicyclist was riding on Cambridge Street just after 9:00 am when they approached a parked car.  The driver was still inside the vehicle and opened their door to get out.   However, prior to opening the door, the driver failed to see the oncoming bicyclist.  The door struck the bicyclist, knocking them off their bicycle.
The motor vehicle driver failed to stay at the scene.  The cyclist then left the area to locate Cambridge police.  Once an officer was located, the cyclist reported the incident to police.  Police were able to contact the driver and issued a them a citation for an unsafe movement.  The bicyclist sustained injuries as a result of being struck by the door, however, the injuries do not appear to be serious.
Boston Personal Injury Attorneys
Most bicycle accidents we see occur as a result of the bicyclist hitting another moving object such as a car, or a large stationary object like a tree or telephone pole.  This accident is a bit unusual as the bicyclist was struck by a car door.  However, the accident is also a reminder of the daily dangers faced by bicyclists in our area.  A bicyclist must be vigilant at all times to avoid any potential hazards in the roadway.  Likewise, motorists must maintain an adequate lookout for bicyclists and pedestrians as they go about their daily business.  In this case, it appears as though the vehicle operator failed to ensure that they could safely open their door which caused the injuries.  If true, their negligence could lead to a personal injury claim asserted by the bicyclist.
Bicycle accident cases involve delicate issues of traffic and personal injury law and should never be handled without an attorney.  At the Jeffrey Glassman Injury Lawyers, we have assisted bicyclists injured in accidents in and around the Boston area.  We understand the issues that a bicyclist is looking at following a crash with injuries. If you are facing this situation, please call our office today for a free consultation to speak with one of our team members about your case.
Note for readers: Information provided in this post is gathered from secondary sources and not independently confirmed for accuracy. Please bring to our attention any inaccuracies that may be included so they may be corrected, or information removed as requested.

DISCLAIMER: Information provided in this post is not intended to be used as legal or medical advice, nor disrespect the victims or families in any way.  We are providing this post for general information on everyday tragedies and presented in a manner to protect and honor the victims and their families. Minor differences can change the outcome of cases, based on jurisdictional laws.  The information provided in this post should not be relied upon as legal or medical advice. We suggest seeking assistance from legal or medical professionals for your personal circumstance, when necessary.