During the 2010-2011 school year, almost 3,000 middle and high school students in Massachusetts suffered a head injury, such as a concussion, while playing sports. That was according to a first-of-its-kind survey released late last year.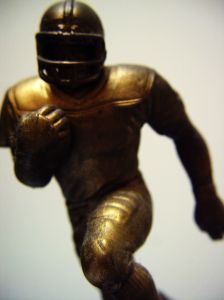 Now, our Boston personal injury attorneys understand that a man who used to be one of those children, an ex-Harvard quarterback who first began suffering football-related concussions in the seventh grade, has created a revolutionary football helmet aimed to reduce head injuries on the field.
A Boston native and Harvard medical school graduate, the founder of Xenith LLC set out to make football helmets that would significantly reduce concussions. The idea hit him after watching footage of a hockey star whose career was cut short after numerous head injuries.
Already, several dozen players with the National Football League are using the device – and they rave about it. One player from the New England Patriots said he hasn't even had a headache since he began using the helmet.
In addition to pro-footballers, the Xenith helmet company is targeting the market of college football and high school football players across the country. Players at the Ohio State University and Notre Dame are using it, as are thousands of high school players. One private high school football coach in Cambridge was quoted as saying that the number of concussions has reduced dramatically since his team began using the helmet.
Right now, the helmets retail for $200 each. That may be cost-prohibitive for many schools at the moment, but the investment in terms of minimizing the lifelong damage could be priceless.
The helmet has 18 shock absorbers installed at pinpointed locations after literally thousands of laboratory tests were conducted to figure out which spots were most likely to take a direct hit, carefully considering each and every angle.
Where most helmets rely solely on some type of foam padding, this technology uses annular, air-filled pads that actually work to absorb the impact. When the helmet (i.e., head) takes a hit, the absorbers will actually compress, release air and then reinflate again quickly. The idea is that the the head isn't the object doing the deflecting – the helmet is.
The company's founder says these shock absorbers work similar to what we would see in a vehicle.
Sports players in general but footballers in particular are at risk for serious and lifelong head trauma as a direct result of the sport. It's made numerous headlines in recent years. Just last year, when an NFL all-pro player committed suicide, an autopsy showed he suffered from chronic traumatic encephalopathy, which is a brain disease directly resulting from head trauma.
The NFL is actually being sued by thousands of former players for downplaying the long-term effects of these hits.
Across the country, the Centers for Disease Control report that nearly 175,000 youths are rushed to the hospital each year for head injuries they incur from sports.

If you are injured in an accident in Massachusetts, call Jeffrey Glassman Injury Lawyers for a free and confidential appointment — (617) 777-7777.
Additional Resources:
Football helmet joins fight vs. head injuries, Jan. 21, 2013, By Jerry Kronenberg, The Boston Globe
Massachusetts schools report thousands of head injuries in sports, Oct. 27, 2012, By Lisa Kocian, The Boston Globe
More Blog Entries:
Boston Prepares for Next Natural Disaster, Feb. 12, 2013, Boston Personal Injury Lawyer Blog