In a previous blog posted on our Boston Personal Injury Attorney Blog we reported that 2011 marks the centennial celebration of Massachusetts workers' compensation law. OSHA will also be celebrating their 40 years of making the workplace safe.
Our Massachusetts workers' compensation lawyers acknowledge the nation's progress in workplace safety/ But we also recognize workers continue to be injured or killed and employers need to be held accountable.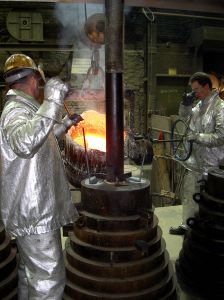 Established in 1971, the Occupational Safety and Health Administration (OSHA) is celebrating 40 years of making the workplace a safer place to be. In 1970, an estimated 14,000 workers died on the job. By 2009, approximately 4,340 were killed in the workplace.
Of course more people are working now then in 1970; an estimated 130 million employees are working at over 7.2 million job sites. Serious workplace illnesses and injuries have dropped from 11 per 100 workers in 1972 to 3.6 per 100 workers in 2009 since the passage of the OSH Act.
Some OSHA highlights over the last 40 years:
-In the 1970's safety standards were established for Asbestos, Construction Safety, 14 Carcinogens, Diving, Lead and Protecting Textile Workers.
-In the 1980's safety standards for Hearing Conservation, Ground Fault Circuit Interrupter, Protecting Grain Workers, Benzene, Farm workers, Protecting Meatpacking Workers, Testing Laboratories Regulations, Excavation & Trenching and OSHA Coverage for Federal Workers were established.
-In the 1990's safety standards for Laboratory Safety, Blood borne Pathogens, Confined Spaces, Stronger Asbestos Standard, Fatal Falls in Construction, Logging and Fatal Falls in Construction.
From 2000 to today safety standards were implemented for Protecting Healthcare Workers, Steel Erection, Fire Protection for Shipyard Employment, Payment for Safety Equipment, Falls in General Industry and Crane and Derrick.
In a message from Assistant Secretary Dr. David Michaels about the future of OSHA, "OSHA remains committed to protecting workers from toxic chemicals and deadly safety hazards at work; ensuring that vulnerable workers in high-risk jobs have access to critical information and education about job hazards; and providing employers with vigorous compliance assistance to promote best practices that can save lives."

If you have been injured at work in the Boston area, contact Massachusetts Workers' Compensation Attorney Jeffrey S. Glassman for a free and confidential appointment to discuss your rights. Call 877-617-5333.