Our Boston Car Accident Attorneys recently discussed the launch of the overnight closures of Interstate 93. With those closures and with other roadwork that is being executed throughout the state, we'd like to shine some light on National Work Zone Awareness Week.
According to the Official Website of the Executive Office of Public Safety and Security, this week-long campaign will be taking place from April 23rd through the 27th. During the campaign, traffic officials will be focusing on motorists' driving habits through work zones in an attempt to help protect the lives of roadway workers and to help to prevent car accidents in Boston and elsewhere.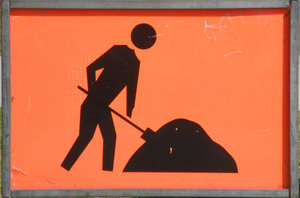 "This campaign will remind drivers to slow down, be aware of their surroundings and protect the lives of the workers around them," said Richard A. Davey, MassDOT's CEO and Secretary.
Our Massachusetts personal injury attorneys understand that officers throughout the state practice a zero-tolerance policy for irresponsible driving near construction and roadwork sites. Officers with the Massachusetts State Police will also be using this time to strictly enforce speed limits through these work zones. Motorists beware and be safe!
Back in November of 2011, the Massachusetts State Police, Governor Deval Patrick, the Executive Office of Public Safety and Security, Massachusetts Department of Transportation (MassDOT) and both federal and state officials announced a pilot program to nab dangerous drivers in work zones by targeting motorists who speed.
This initiative was federally funded through MassDOT's Highway Safety Improvement Program and EOPSS and was the result of an extreme spike in the number of accidents in work sites. These accidents were most commonly the result of speedy and distracted drivers. With the recent increase in the number of construction workers along our roadways as well as the number of officers and cruisers hit by speedy drivers, the Construction Industries of Massachusetts and State Police joined up with the National Highway Traffic Safety Administration, the Federal Highway Administration, MassDOT and EOPSS to create an initiative to step up speed enforcement in work areas statewide. The enforcement effort lasted for about 10 weeks. During that time, nearly 4,000 traffic stops were made for various violations within work zones. With these stops, there were about 2,000 citations issued.
Every April, Massachusetts and other states participate in National Work Zone Awareness Week to focus attention on motorist and worker safety and mobility issues in work zones nationwide. Officials believe that this effort is paying off as the number of fatal work zone accidents has declined significantly, from more than 1,000 in 2006 to just fewer than 600 in 2010. The work's far from over though. Until we are able to work and travel in these areas safely, the work and the enforcement will continue. Drivers are asked to please be extremely cautious when driving through these areas to help avoid a potentially fatal accident.

If you or someone in your family has been injured or killed in an accident in Boston or elsewhere in the state, contact Boston Injury Attorney Jeffrey S. Glassman. Our firm offers free and confidential appointments to discuss your rights. Call 877-617-5333 to set up your appointment today!
More Blog Entries:
Reducing Risks of Accidents in Boston One Road at a Time, Boston Personal Injury Attorney Blog, March 23, 2012
Accidents in Boston Could Be Minimized with New Variable-Message Sign, Boston Personal Injury Attorney Blog, March 9, 2012