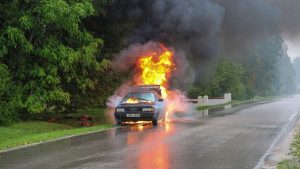 Wilbraham, MA (July 9, 2018) – A car fire was reported in Wilbraham, Massachsetts Sunday evening.  According to Captain Kevin Brown of the Wilbraham Fire Department, a person was traveling along Stony Hill Road when their car suddenly caught fire.  The driver had to pull into a driveway at 692 Stony Hill Road.  Police and fire officials quickly responded to the scene.  The driver was able to get out of the vehicle before officials arrived.
There is no word at this time on whether any passengers were in the vehicle at the time of the fire.  The driver was transported to a local hospital for treatment of burns.  There is no word at this time on what might have caused the fire.  The incident remains under investigation by the Wilbraham Fire Department.
Boston Personal Injury Attorney
At this time, we do not know what caused the car fire.  Investigators will look into all possible reasons, including a mechanical or vehicle defect.  They will also consider user error and other factors outside of mechanical defects that could have resulted in the fire.  Once the investigation is concluded,we will know more regarding any potential legal responsibility.
Equipment defects are one potential cause of serious car accidents.  Many times when we think of crashes, we think of negligence on the part of one driver or another.  However, in some cases, a vehicle can malfunction causing a crash.  The reason for a malfunction can vary.  Sometimes the malfunction occurs because the car came in defective from the manufacturer.  Other times, a mechanic may not properly repair a car or may use a faulty car part causing the vehicle to fail once it is on the road.
Depending on the source of malfunction, the responsible party varies as well.  If it is a manufacturing defect, the driver may try to obtain recovery through a product liability case.  If there is an issue with a mechanic, the driver has a claim against the body shop which did the repair.
If you suffer an injury as a result of a vehicle defect, we are here to help.  At the Jeffrey Glassman Injury Lawyers, we have experience with all types of defects, from product liability to body shop negligence.  Give us a call today for your free consultation, 617-367-2900.
Note for readers: Information provided in this post is gathered from secondary sources and not independently confirmed for accuracy. Please bring to our attention any inaccuracies that may be included so they may be corrected, or information removed as requested.
DISCLAIMER: Information provided in this post is not intended to be used as legal or medical advice, nor disrespect the victims or families in any way.  We are providing this post for general information on everyday tragedies and presented in a manner to protect and honor the victims and their families. Minor differences can change the outcome of cases, based on jurisdictional laws.  The information provided in this post should not be relied upon as legal or medical advice. We suggest seeking assistance from legal or medical professionals for your personal circumstance, when necessary.