While people frequently threaten to file lawsuits against negligent parties in claims relating to car accidents, actually doing so proves to much more complicated. Filing a lawsuit requires a plaintiff to prove by a preponderance of the evidence that a negligent party breached a duty of care and that breach caused a victim's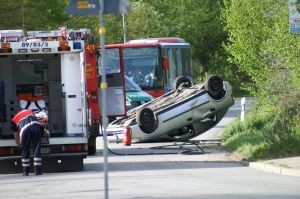 injuries.
At the Jeffrey Glassman Injury Lawyers, we can file a lawsuit to hold a negligent party accountable when an insurance company is unwilling to provide you with adequate compensation for your injuries. Call 617-367-2900 to have our experienced personal injury lawyers review your case and discuss all of your legal options.
When Lawsuits Get Filed for Car Crashes
All drivers are required by law to maintain automobile insurance, and insurance companies usually handle disputes about fault and providing compensation to injured parties following most crashes. If a person is seriously injured and amasses significant medical debt or will be out of work for a considerable amount of time, it is not uncommon for the victim to take issue with a low ball settlement offer from an insurance company.
A personal injury attorney can represent you in these negotiations and work to achieve a settlement that accounts for all of your past, present, and future needs. Insurers will often have representatives contact victims immediately after crashes to encourage them not to "bring lawyers into this" and sign settlements that are often far less than what they are actually entitled to.
You should refuse to speak to any insurance company representative until you have legal representation. Even innocent conversations can be recorded, and seemingly minor statements you make can be used against you later on.
When an insurer is proving unwilling to provide a satisfactory settlement offer, your attorney can then file a lawsuit against the negligent party. If the case goes to trial and you are able to prove your case by a preponderance of the evidence, you will likely receive a jury award.
Uninsured Drivers
It is an unfortunate truth that some drivers do not maintain the automobile insurance required by law. Similarly, some other drivers have insurance policies with extremely low minimums that do not provide adequate compensation to victims.
In such cases, a victim may still be able to file a lawsuit against the driver. In many cases, however, drivers without insurance or with inadequate insurance do not have the personal assets to pay judgments against them.
Many victims can file claims with their own insurance companies for accidents caused by uninsured drivers. It is important to remember that even when you are seeking compensation from your own insurer, the insurance company is still a business that has a goal of paying as little as possible to resolve the claim.
Contact a Personal Injury Lawyer
Are you considering filing a lawsuit because of injuries you suffered in a car crash caused by another party's negligence? You will want to contact the Jeffrey Glassman Injury Lawyers, for help getting justice. Our personal injury attorneys can provide a complete evaluation of your case as soon as you call 617-367-2900 today and tell us your story.