It's summertime, and water slides are a popular activity for adults and children alike. They offer a thrill, but they aren't always safe. When a child injury occurs on a water slide, our attorneys will examine whether a dangerous condition existed on site about which the park or employees should have known (premises liability) or whether there was some defect in the slide or its components about which the manufacturer or distributor should have been aware (product liability).
A recent child injury in California involved a new water slide at a water park in California.  The ride is called "The Wave" and features a half pipe on an 80-degree decline with a three-story drop. Once the water slide reaches the base, the tube sits on a concrete slab.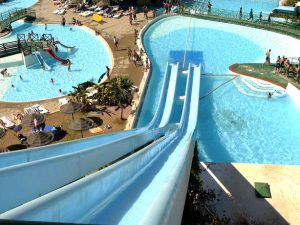 When the 10-year-old rider, who met the minimum height requirement for the ride, reached the bottom of the ride, instead of sliding along to the tube to the pool at the end, he was launched out of the tube and slammed into the concrete base pad. The water slide was immediately closed until safety modifications could be made, and first responders treated the child on the scene before calling an ambulance to take him to a local emergency room.  He was injured, but fortunately, his injuries were not life threatening, and he was released the same day.
As discussed in a recent news article from ABC News, the federal government does not regulate water parks.  There are many accidents each year, and there is an average of more than 4,200 cases of personal injuries at water parks each year.
As our Boston personal injury lawyers have seen in cases where someone is injured at an amusement park or other type of tourist attraction, park owners will often turn to the liability waiver as an affirmative defense. Whenever you go to an amusement park, you are given a ticket that likely has a lot of small print on the back.  In some cases, where they use wristbands instead of physical tickets, they will have the purchaser sign their name on an electric signature pad.  Whether we are dealing with the paper ticket with fine print or the electronic signature, you are supposedly affirming that you and the children under your care agree to the terms and conditions listed in the waiver.
The waiver will almost always attempt to excuse park owners and all employees from liability, including acts of intentional misconduct or negligence. With respect to intentional torts or cases of gross negligence, it is hard to a have a valid waiver of liability.  However, Massachusetts courts do have a long history of upholding these releases, as can been seen Sharon v. City of Newton (437 Mass. 99; 769 N.E.2d 738; 2002 Mass).  In that case, a child was injured during a school activity. The child's father signed what we typically think of as a permission slip for the child, and the school argued they were not liable because the child's father had signed a waiver.
However, this is not the case in every situation, as the facts are often different.  There may be ways around a waiver, and you should speak with an experienced personal injury lawyer about your actual case.  One defense that may be possible deals with the circumstances upon which the release was signed. With a permission slip, there is an actual chance for the parent to the read the waiver and sign or choose not to do so. The court also noted that with a school, there is a public policy interest in allowing schools to conduct educational field trips and activities without the fear of lawsuits.
If you have suffered personal injury in Massachusetts, call Jeffrey Glassman Injury Lawyers for a free and confidential appointment — (617) 777-7777.
Additional Resources:
Video captures the moment a boy falls off a waterslide in California, May 28, 2017, ABC News
More Blog Entries:
Slip-and-Fall Injury Suffered by Child Litigated Years Later, April 2, 2017, Boston Injury Lawyer Blog