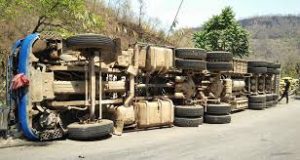 A crash on Wednesday afternoon claimed the life of a tanker truck driver in Whately, Massachusetts.  The crash occurred on I-91 in the highway's northbound lanes.  Police in Whatey say that the driver was hauling a load of fuel when he lost control of the truck, causing it to veer off of the right side of the highway.  After departing the highway, the truck rolled over, trapping the driver inside.
The driver was pronounced dead at the scene of the crash.  He has now been identified by police as 47 year old Jody Crosby of Seymour, Connecticut.   Several agencies investigated this crash including Whately Fire and EMS, a regional hazmat team, Westover Fire, the Massachusetts Emergency Management Agency, Massachusetts Department of Environmental Protection, Mass DOT and the state Medical Examiner's Office.  Traffic in the area experienced major delays as a result of the crash and was down to one lane for several hours while authorities worked to clean up and investigate the crash scene.
Boston Injury Attorneys
We are saddened to hear of this fatal accident in Whatley.  Unfortunately, fatal and serious car accidents often occur when large vehicles such as dump trucks and other commercial vehicles are involved in crashes.  The sheer weight and size of these vehicles makes it far more likely that a crash will be more serious in nature than a crash involving passenger vehicles.  As the investigation remains ongoing, police will look to establish the actual sequence of events leading to the crash and also to determine the ultimate cause of the collision.  In the case of a rollover crash, there are several factors to consider including drier error, but also equipment malfunction and poor roadway conditions.  Police will take a look at all of these issues in determining the reason for the crash.
At Jeffrey Glassman Injury Lawyers, we know that serious and fatal accidents come as a shock to anyone.  Unfortunately, we cannot bring back a loved one or heal injuries.  However, we can protect your legal rights in these situations and help you gain compensation for what has been lost in the accident.  If we can help you, please do not hesitate to call us today at 617-367-2900.  The call is free and we are waiting to speak with you.
Note for readers: Information provided in this post is gathered from secondary sources and not independently confirmed for accuracy. Please bring to our attention any inaccuracies that may be included so they may be corrected, or information removed as requested.

DISCLAIMER: Information provided in this post is not intended to be used as legal or medical advice, nor disrespect the victims or families in any way.  We are providing this post for general information on everyday tragedies and presented in a manner to protect and honor the victims and their families. Minor differences can change the outcome of cases, based on jurisdictional laws.  The information provided in this post should not be relied upon as legal or medical advice. We suggest seeking assistance from legal or medical professionals for your personal circumstance, when necessary.