Danvers police logs released today indicate that there were two similar accidents in the evening on Thursday, April 19.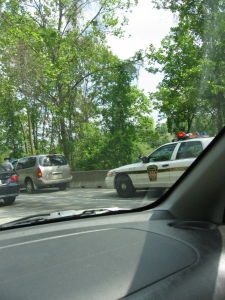 An officer was dispatched to 466 Newbury St., at approximately 6:50 p.m., for a hit-and-run accident. There were no further details on the extent of damages, or cause.
Officers were also dispatched to Andover Street, at around 8:30 p.m., for another hit-and-run accident. No further details were provided.
Massachusetts Hit-and-Run Law
In Massachusetts, anyone who is in an accident involving property damage and/or injury to another, must, under law, give their name, address, license and insurance information to the victim.  If there was only property damage, failure to follow Massachusetts law is a misdemeanor.  If an individual was hurt, the fleeing driver would be facing felony prosecution.
A victim of a hit-and-run accident, does not have to prove an accident happened before claiming compensation from the fleeing motorist. Having the identity of the fleeing party is crucial to filing a Massachusetts personal injury lawsuit. Victims, or their attorney, can obtain identifying information of the driver by reviewing intersection cameras or surveillance videos.
If the motorist is unknown, or did not have auto insurance, the victim can make a claim under his or her own uninsured motorist policy. The victim would have to show that a hit and run accident happened. The victim would have to show that it was the fault of the uninsured driver. The victim could also simply establish that the accident happened with no or little fault on his or her own par. He or she would also have to give evidence relating to injuries and damages.
There are various issues in a hit-and-run accidents that only a knowledgeable Boston personal injury lawyer like those at the Law Offices of Jeffrey S. Glassman should handle.  Call (617) 777-7777 today for an  evaluation of your personal injury claim.
Note for readers: Information provided in this post is gathered from secondary sources and not independently confirmed for accuracy. Please bring to our attention any inaccuracies that may be included so they may be corrected, or information removed as requested.
DISCLAIMER: Information provided in this post is not intended to be used as legal or medical advice, nor disrespect the victims or families in any way.  We are providing this post for general information on everyday tragedies and presented in a manner to protect and honor the victims and their families.  Minor differences can change the outcome of cases, based on jurisdictional laws.  The information provided in this post should not be relied upon as legal or medical advice.  We suggest seeking assistance from legal or medical professionals for your personal circumstance, when necessary.