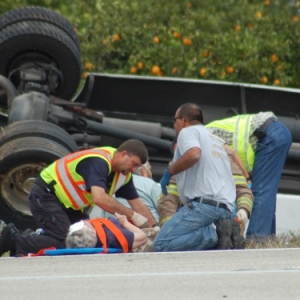 By CHRTOPHER TUFFLEY
SEBRING –Two fatalities have been confirmed by the Florida Highway Patrol in the charter bus crash that occurred at 2:15 p.m. Monday afternoon on U. S. 27 at the intersection with Lake Francis Road.
The bus, chartered by South Florida Community College for its Exploritas program, was traveling north, returning from a tour of the Lake Placid murals at the time of the crash.
FHP Lt. Chris Miller confirms that Alice J. Adams, 81, a resident of Lake Placid, was driving east on Lake Frances Road in a 2010 red Mercury when she attempted to enter the northbound lanes of U. S. 27.
At this time it is unclear why Adams failed to yield the right of way to the bus.
Larry L. Metzer, 69, the bus driver, attempted to avoid the Mercury, but the front right of the car struck the left side of the bus. That blow caused the bus to veer off onto the east shoulder of the highway where it overturned into a ditch.
This resulted in the ejection of several passengers and there were extensive injuries.
Thirty-two people, including the driver, were on the bus at the time of the crash. Only one person was not transported to a hospital.
Two were pronounced dead at the scene, three had critical injuries and the rest had serious to minor injuries. Aeromed and Bay Life were two of the several companies providing helicopter evacuation. At least five helicopters picked up victims.
Becky Rousch, who directs community education for SFCC, was on the bus.
Deborah Bell, spokesperson for SFCC, reports Rousch is resting comfortably and recovering.
Of the 11 victims transported to Florida Hospital in Lake Placid, two were later airlifted to larger hospitals and nine remained hospitalized as of Tuesday morning.
Tiffany Bender, spokes person for Florida Hospital, said Tuesday that Florida Hospital, Heartland Division had been expecting 12 victims at the Sebring emergency room, but half of those victims were airlifted directly from the scene and only six victims were transported to the Sebring campus. Of that number two remain hospitalized locally and four were later flown to Orlando.
Highlands Regional Medical Center received seven victims.
John Dunn, spokesperson for Tampa General Hospital, said Tuesday morning that six victims were airlifted to the hospital, three directly from the scene and three from Highlands County hospitals.
Hospitals in Orlando also took in the injured, and Lee Memorial Hospital in Ft. Myers took in one.
Early reports indicated the bus passengers were all from Boston, Mass.
Exploritas, an independent company which SFCC uses in its community education program, is based in Boston, but the tourists on the bus came from many different states, including Indiana and Virginia. Bell said the day of the crash was the first day of a week-long program.
The bus had been on its way to deliver the tourists to their hotel.
"Right now we are focusing on the individuals and their families," Bell said. "We are working closely with local authorities and Exploritas."