Injuries Caused as Ford Escape Strikes Tree While on the Way to the Hospital
A man on his way to dialysis Saturday morning, April 28, 2018, may have fallen asleep at the wheel causing him to crash in to a tree in Palmer.  The incident occurred around 5:00 am Saturday morning at the intersection of Searle Street and Fairview Street.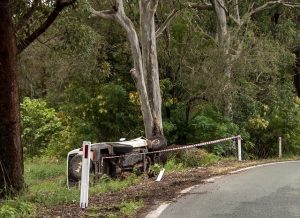 The man was driving a 2008 Ford Escape when he veered off the road and hit a tree head on, according to Palmer Police.  The driver was trapped in his vehicle as the door had become wedged shut after striking the tree.  Firefighters needed the 'Jaws of Life' to free him from his car.