Pierce Manufacturing, Inc., the maker of the ladder that fell while in use by the Boston Fire Department while fighting a fire in Mattapan on Wednesday, has issued a response to the incident. The accident has not been fully looked into by authorities. The company states that initial investigations reveal this was an incident that has not occurred before with the 2005 reserve equipment.
The Wednesday evening fire started in a triple floor, multi-family dwelling on Duke Street. There was thick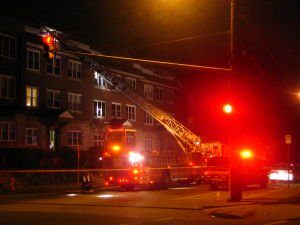 smoke on the top floor when firefighters arrived on scene. The faulty equipment was part of Tower Ladder 10 where the ladder fell onto the home. The fireman in the bucket at the time descended a few feet, and risked severe injury if the ladder's fall was not stopped by the home.
According to Boston Fire Commissioner Joseph Finn, their equipment is well maintained by the department. Prior to sending it out for service, no one noticed a problem with the ladder.