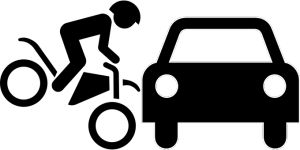 Beverly, MA (July 11, 2018) – A car and motorcycle collided in Beverly, Massachusetts Tuesday, leaving the motorcyclist hospitalized with injuries.
The crash occurred at Herrick Street and Sohier Road, around 1:25 pm.  At that time, a motorcyclist was traveling behind a Toyota passenger vehicle.  The Toyota attempted to turn left into a driveway.  The motorcyclist collided with the right side of the Toyota and the motorcycle toppled over into the roadway.
Two police units, along with fire and ambulance crews arrived on the accident scene.  The motorcyclist was injured in the crash.  He was transported to Beverly Hospital with a neck injury.  His condition is unknown at this time.  The Toyota driver was not hurt.  Police are still investigating the crash at this time.