Every summer, families across the country head out to amusement parks and water parks. Some families go to local amusement parks, such as Six Flags in Agawam, Massachusetts and other families will travel much further away to go to larger attractions like Disney in Orlando, Florida.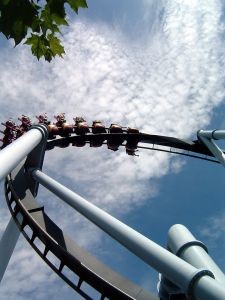 While millions of people have fun at the parks without incident, we have seen cases of serious accidents and personal injury across the nation so far this summer. A recent news feature from Market Watch, takes a look at some of the "scariest" amusement park accidents that have occurred this year.
At one of these incidents in Disney's Epcot Center in Orlando, Florida, people were apparently waiting on a very long line for the Test Track Line, and at least one of the people on line was not happy with the situation and allegedly started a fight. This resulted in three people engaged in a physical altercation in a crowd of people. Fortunately, no one was hurt in the incident, and no arrests were made.
However, as our Boston personal injury lawyers can explain, if a plaintiff is injured by the intentional act of a third party, there may be a valid claim, based upon a premises liability theory. The strength of the case might depend on whether plaintiff can establish defendant was on notice this kind of incident could happen. There is, of course, always the option of filing a direct claim for tortious assault against the assailant personally, but the owner of the venue is more likely to have insurance capable of paying any judgments.
Another fighting incident occurred at a Pittsburgh amusement park. In this case, more than 50 teenagers became engaged in a massive brawl that sent guests running for the exit. The park closed early that day.
At one accident at a Wisconsin amusement park, guests were strapped into a large catapult ride. When the bungee cord propelled vehicle was pulled back to the loading position, the bungee cord holding the riders violently snapped, causing the ride to malfunction. This defect was so problematic the ride was removed from the park entirely and has not been replaced.
In yet another incident at a California amusement park, a rider dropped a cellphone while riding a roller coaster. The rider told a ride worker, who went into the restricted area to try to recover the phone. While the ride should have been shut down temporarily whenever a worker was in the danger zone, it was running, and a train moving at high speed approached the worker's position. This was the kind of suspended roller coaster when the riders' feet dangle from the train cars. When the car passed over the man's head, a rider's foot made contact with worker's head. The worker and the rider were injured in this amusement park accident.
While there were many other accidents discussed in the article, what is important for accident victims to realize is that is that it is important to make sure any injury is reported to park supervisors as soon as possible. This will allow the victim to receive appropriate medical attention while insuring there is a record of the incident created
If you are injured in an accident in Boston, call Jeffrey Glassman Injury Lawyers for a free and confidential appointment — (617) 777-7777.
Additional Resources:
7 reasons to avoid amusement parks this summer, August 1, 2015, Market Watch
More Blog Entries:
Wilkins v. City of Haverhill – Massachusetts Supreme Court Weighs Slip-and-Fall Claim, May 23, 2014, Boston Personal Injury Attorney Blog