As the winter season draws near, snow mounds, unplowed parking lots, and icy sidewalks can create the danger for pedestrians and shoppers. While it may seem too early to start that discussion, the reality is risks are highest through the first couple snowfalls as motorists adjust their driving, pedestrians get their winter feet, and businesses and property owners get squared away for the long winter's fight. Our Boston personal injury attorneys are experienced with negligence claims and are dedicated to raising awareness about building safety and maintenance.
In 2010, the Massachusetts Supreme Judicial Court ruled in Papadopoulous v. Target Corp. that all Massachusetts property owners are legally responsible for the removal of ice and snow from their residence or business. According to an old common law, otherwise known as the "Massachusetts Rule" owners could leave snow and ice on their property to accumulate without liability. After all other courts throughout New England dismissed the bygone common law, the Supreme Judicial Court held that property owners must treat snow and ice as a dangerous condition.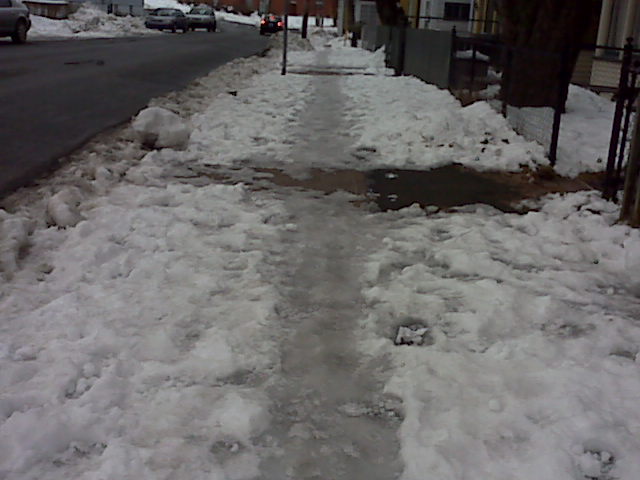 You have probably heard of the expression "slip and fall," but do you know what it means and who can be held responsible in the event of an injury? Falls on commercial or residential property can be extremely dangerous and can cause permanent damage to victims. It is important to have a clear understanding of premises liability if you have suffered an accident to identify responsible individuals and entities.

Slip and fall injuries fall under the general category of common law negligence. Property owners or management companies are required to exercise reasonable care to ensure that those who enter the property are safe from harm. Whether cleaning up spills, chipping away sidewalk ice, or marking dangerous areas, it is important that commercial and residential owners take appropriate care of property to prevent accidents, including falls.
To prevent injury, Massachusetts commercial and residential property owners should be prepared to quickly and effectively deal with snow and ice removal. Areas should be cleared for the public and for visitors as soon as possible. Remember that even though sidewalks are legally owned by cities, major cities, including Boston and Worchester do have local ordinances that require owners to clear the ice and snow away from sidewalks in front of both residences and businesses.
Many slip and fall cases will involve a commercial property such as Wal-Mart; however there are also cases filed against government contractors or government entities when a property is not maintained or repaired. A number of cases involve landlord liability for failure to fix known defects of an apartment building, including a guardrail, stairwell, or light fixture. Private property owners may also be held liable in the event of slip and fall or other accident if they failed to cure a defect in a reasonable amount of time or warn of a potential danger.
In slip and fall cases, juries will weigh a number of different steps to determine whether a property acted reasonably to prevent a slip and fall. In slip and fall cases that question fact, both sides will present evidence as to whether the property owner knew or should have known of the potential danger. To prove knowledge or reasonable care, a victim may present video or surveillance evidence, pictures or witness statements. The longer that a property owner had knowledge of a defect without fixing it, the more likely they will be held liable for negligence in the event of an accident.
Slip and fall accidents can result in severe and permanent injury, and in some cases, accidental death. Victims of slip and fall accidents could suffer from lacerations, broken bones, head and neck injuries, as well as permanent brain injury or spinal cord damage. Victims may be entitled to compensation for medical expenses, long-term care, pain and suffering, lost wages and additional costs related to the accident and injury. As a property owner, you want to protect yourself and to help keep the public safe. In addition to taking reasonable care for your property to prevent injury, you should also make sure that you have liability coverage to protect yourself or your business in the event of injury.
If you or a loved one has been involved in a slip and fall accident in the Greater Boston area, contact Jeffrey Glassman Injury Lawyers, LLC for a free consultation to discuss your claim. Call (617) 777-7777.
Additional Resources Bounce House Parties a Big Hit, But Present a Significant Danger of Injury, Boston Personal Injury Attorney Blog, December 6, 2012
Millions Slip in Restaurants Each Year. How You Can Stay Safe from a Boston Slip and Fall, Boston Personal Injury Attorney Blog, December 28, 2012