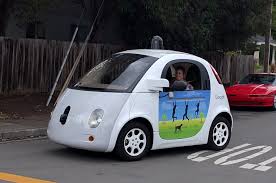 Self-driving cars are on the rise across Boston. Just this past week, it was announced that the self-driving car company nuTonomy had received permission to test self-driving cars throughout our city.  With this news, it appears that the self-driving car revolution is not slowing down any time soon. Typically two issues arise when it comes to self-driving cars: Are they actually safer, and who is liable if a self-driving car crashes?
In 2013, the National Highway Traffic Administration released a 6-level classification system for autonomous cars. Level 0, the lowest level, means the automated system may issue warnings to the driver, but the driver is completely in control of the vehicle. Level 5, the highest level, means that no human interaction is required – the vehicle completely drives itself.
At a level lower than 3, the level at which a driver can safely focus their attention on tasks other than driving, a driver must remain in control of the vehicle and its movements.  Therefore, if an accident occurs in a Level 3 vehicle, the driver is accountable for their negligence. At level 2, it is required that a driver keep their hands on the wheel and be able to take action if the car begins to go out of control.
On March 18, a pedestrian in Arizona was killed when she was struck by an autonomous car.   The victim was walking with her bicycle and the car took no evasive movements to avoid the accident.  She was struck while car was still going full speed at 40 mph.
Later that week, on March 23, a Tesla autonomous vehicle crashed into a concrete barrier on the highway and burst into flames. The driver of the vehicle was fatally injured in the crash.  The car was in auto-pilot mode at the time of the crash. Even though auto-pilot was on, driver was allegedly warned that auto-pilot is just a driver assistance tool and not meant to substitute for the actual driver.
Negligence in Autonomous Car Accidents
Currently, laws have not been able to keep up with technology in this area.  In the future, as cars move towards being more and more autonomous personal injury liability in autonomous car crashes may shift away from the driver and onto the manufacturer.  Autonomous cars in the future may even be programmed not to commit certain traffic offenses, such as speeding, traffic violations, OUI, reckless driving, etc. This would mean that autonomous cars might even be the safest option for all drivers because, as we all know, human error is the main factor in the majority of personal injury accidents.  For now, however, we are left with a confusing mix of laws surrounding the partially autonomous vehicle with human input.
Boston Personal Injury Attorneys
At the Jeffrey Glassman Injury Lawyers, our attorneys have substantial experience in the field of personal injury law.  We have been recognized by several organizations, including SuperLawyers and have been named among the Top 100 National Trial Lawyers. For a free consultations with one of our attorneys, please contact our Boston Law Office at 617-367-2900 today.