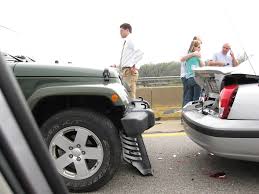 Pittsfield, MA (July 11, 2018) – Police in Pittsfield investigated two rear-end crashes that occurred at nearly the same location on Tuesday.  The first crash, which we previously reported on, involved a 71 year old woman being rear-ended on South Street.  The second crash, which took place less than an hour after the first, also occurred on South Street.
In this crash, police say that 17 year old Cedric Rose was driving a 2009 Ford Focus when he hit a 2016 Hyundai Sonata being driven by 30 year old Ashley Pemble.  Pemble's 5 year old son was in the car at the time of the crash.  Additionally, the force of the crash caused Pemble's car to go forward and hit a 2011 Mitsubish Endeavor, driven by 67 year old Patricia Duma.  All involved are Pittsfield residents.
Pemble and her son were taken to Berkshire medical center for treatment of injuries but have since been released.  No other individuals were injured in this crash.
Rear-End Collisions
A rear-end collision, or a fender bender, is probably the most common type of crash.   When many people think of car accidents, the fender bender is the first thing that comes to mind.  Usually, a fender bender is a minor accident that involves just property damage and everyone is able to walk away without injuries.
However, in some cases fender benders can result in injuries.  At high speeds, a rear-end collision can be very serious and even deadly in extreme incidents.  When you are hit from behind, your car will jerk forward and your body will violently move back and forth.  Whiplash injuries are extremely common occurrences in a rear-end collision.  Closed head injuries can occur if you strike your head on the streering wheel.  Seatbelt and air bag burns also result from these types of crashes.
Injuries from rear-end collision can be painful and long lasting.  It can take months to heal from a whiplash type injury and even longer to heal from a closed head injury such as a concussion.  When you suffer injuries in a rear-end collision, you need a good personal injury attorney to help you through your claim.
At the Law Offices of Jeffrey S. Glassman, our team specializes in personal injury law and car accident cases.  We have helped thousands of people in your situation as they recover from car accident injuries.
For your free consultation to speak with one of our attorneys, please call us today at 617-367-2900.
Note for readers: Information provided in this post is gathered from secondary sources and not independently confirmed for accuracy. Please bring to our attention any inaccuracies that may be included so they may be corrected, or information removed as requested.
DISCLAIMER: Information provided in this post is not intended to be used as legal or medical advice, nor disrespect the victims or families in any way.  We are providing this post for general information on everyday tragedies and presented in a manner to protect and honor the victims and their families. Minor differences can change the outcome of cases, based on jurisdictional laws.  The information provided in this post should not be relied upon as legal or medical advice. We suggest seeking assistance from legal or medical professionals for your personal circumstance, when necessary.