Massachusetts Transportation Secretary Jeffrey B. Mullan took to Boston streets during rush hour last week on his way to the inaugural Boston Bicycle Safety Summit.
There, Mayor Thomas M. Menino and others urged motorists and cyclists to adopt safe driving habits at the outset of the spring and summer riding season, the Boston Globe reported.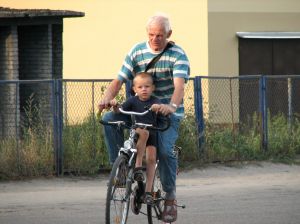 As we reported last week on our Boston Personal Injury Attorney Blog, spring is a particularly dangerous time for Massachusetts bicycle accidents; motorists are urged to use extra caution to help keep the roads safe for our cycling friends.
A total of 716 cyclists were killed in bicycle accidents nationwide in 2008, according to the National Highway Traffic Safety Administration.
Seeking to become a cycling haven, Boston has added 15 miles of bike trails, installed more than 500 bicycle racks and instituted a $100 fine for parking in bike lanes. This year's budget includes $450,000 for 20 more miles of bike lanes.
The Mayor said he wants drivers to respect cyclists and police officers to enforce the law.
"Autos will not rule the road any longer," he said. "It's a health issue, it's a convenient way of getting around the city. And we want to listen to the very active (cycling) community."

If you have been injured in a Boston cycling accident, contact Jeffrey Glassman Injury Lawyers for a free and confidential appointment to discuss your rights. Call 877-617-5333.