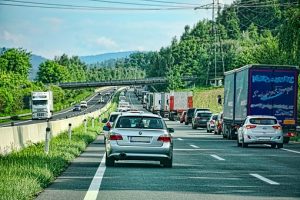 Norwood, MA (July 13, 2018) – Multiple vehicles were involved in a crash that occurred in the left hand lanes of I-95 in Norwood Friday morning.   The accident happened just before 7:00 am on I-95 north, near exit 11 at Neponset Street.   The crash blocked both the travel lanes as well as the breakdown lane of the roadway, leaving only one lane for traffic to get by.  Predictably, the crash caused major delays on the highway at one of the busiest travel times of the day.
An ambulance was on scene to treat those injured in the crash.  The vehicles involved sustained heavy property damage as a result of the collision, however, the extent of injuries remains unknown at this time.  The accident scene is active and police are still investigating the crash.   We will provide you with any further information as it becomes available at a later time.
Boston Personal Injury Lawyers
Injury accidents happen on a daily basis on major streets and highways in Boston and around our state.  With a population of over 6.8 million, Massachusetts is the third most densely populated state in the country as of 2017.  A more densely populated area naturally means more people on the roadways and thus more car accidents.  As much as we would all like to avoid accidents, we know that they will naturally occur due to a variety of causes related to mechanical or human error.
If you have been the unfortunate victim of an accident, we know how you feel.  Car accidents are never a pleasant experience for those involved.  They are even worse when you are injured.  A personal injury accident leaves you with problems that you did not have prior to the crash: pain and suffering, high medical bills and missed work to name a few.  These problems can seem overwhelming if you are not properly prepared to deal with them in the aftermath of the crash.
We are here to help.  At the Jeffrey Glassman Injury Lawyers, our personal injury attorneys have decades of combined experience helping car accident victims through troubling and difficult times.  Our staff possesses the training and knowledge necessary to assist the attorneys and help with a positive resolution to your Massachusetts personal injury claim.
If you or a loved one has been injured in an accident, please call our Boston personal injury lawyers at 617-367-2900 today for a free consultation to discuss your case.
Note for readers: Information provided in this post is gathered from secondary sources and not independently confirmed for accuracy. Please bring to our attention any inaccuracies that may be included so they may be corrected, or information removed as requested.
DISCLAIMER: Information provided in this post is not intended to be used as legal or medical advice, nor disrespect the victims or families in any way.  We are providing this post for general information on everyday tragedies and presented in a manner to protect and honor the victims and their families. Minor differences can change the outcome of cases, based on jurisdictional laws.  The information provided in this post should not be relied upon as legal or medical advice. We suggest seeking assistance from legal or medical professionals for your personal circumstance, when necessary.