Lack of workplace protection can often lead to what should be preventable Massachusetts work injuries. Cave-in protection was lacking at a Revere, Massachusetts jobsite. As a result, a Stoughton, Mass., contractor was fined $69,300.
Our Boston workers' compensation attorneys know that excavation work is extremely dangerous and claims the lives of about 50 workers a year nationally.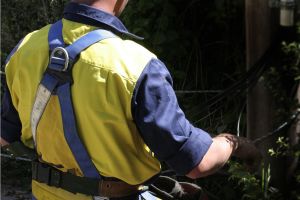 A worksite located at the Massachusetts Bay Transportation Authority's Wonderland Station has been cited by the U.S. Department of Labor's Occupational Safety and Health Administration (OSHA) for alleged willful and repeat violations of workplace safety standards. At the time of the inspection the station's parking lot was having electrical vaults installed.
A complaint about unsafe conditions initiated a night time inspection by OSHA. Inspectors found workers of A.A. Will Corp. working without cave-in protection in a trench deeper than 5 feet. The trench also lacked any means for the employees to escape in the event of a cave-in or other emergency.
"The unprotected walls of an excavation can collapse in seconds, crushing workers beneath tons of soil and debris before they have a chance to react or escape. Employers must never allow an employee to face such a dangerous situation," said Jeffrey A. Erskine, OSHA's area director in Middlesex and Essex counties. "Employers also should not assume that they are exempt from an OSHA inspection when they work at night. Worker safety is a priority that extends beyond nine to five hours."
The OSHA findings of lacking cave-in protection yielded the company 1 willful citation, with a proposed fine of $61,600. Lacking a means of escape resulted in 1 repeat citation with a fine of $7,700. In February 2010, OSHA had cited the company previously for lacking a means of escape in an emergency.
A similar situation occurred as we reported in a previous blog posted on our Boston Personal Injury Attorney Blog when another Massachusetts contractor faced stiff fines for endangering their workers in unprotected trenches.
OSHA safety standards regarding trenches and excavations 5 feet or deeper require protection against collapse.

If you have been injured while at work or have a Boston workers' compensation claim, contact Jeffrey Glassman Injury Lawyers for assistance. We fight aggressively for victims of personal injury so call toll free at (617) 777-7777 to set up a free appointment to discuss your rights.