In April 2022, a 39-year-old Boston man died after he became trapped in the door of a Red Line train and was dragged a short distance as the train left a platform in South Boston.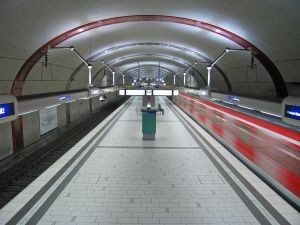 Unfortunately, these tragic incidents happen far too frequently and cause serious injury to innocent travelers, even though they are largely preventable.
Jeffrey Glassman Injury Lawyers believes that everyone should be able to use the MBTA's systems and facilities safely and without incident. If you or a family member have been hurt in an MBTA subway or train dragging accident, we can help you recover maximum compensation for medical bills, lost wages, pain and suffering, and more.
We can also help with a wrongful death suit against all liable parties.
Our Boston law firm has a strong record of holding the Massachusetts Bay Transportation Authority accountable for its negligence. And we have recovered tens of millions of dollars for clients, including $415,000 for one former client who was dragged after his arm became caught in a train door.
Arms, Legs, and Bags Can Get Stuck in Subway and Train Doors
It happens more than you might think. A commuter is boarding or exiting a subway or train car when the doors suddenly close, entrapping the person and placing them in harm's way. If the subway or train leaves the platform, the person can suffer severe or fatal injuries.
According to news reports, people have gotten their arms, fingers, legs, feet, bags, and clothing caught in subway and train doors and have been dragged along the platform or tracks. There are even reports of strollers with babies inside getting stuck between closing doors.
Modern train and subway door systems should have safety features to protect passengers, such as sensors that trigger doors to reopen when an obstruction like an arm or bag is detected.
Safety features that subway and train doors often have include:
Pushback features that allow a level of "buffering" when the door contacts a passenger or some other object while closing.
Sensitive edges or another control device that reverses the direction of the door's movement upon sensing a person's arm, leg, or another obstruction.
Door control systems that allow the subway or train operator to isolate specific doors or groups of doors.
Interlocking devices that prevent a train from moving if the doors do not achieve a closed and locked status.
Red Line trains, such as the one involved in the deadly dragging incident in April 2022, are equipped with sensitive edges. However, when these systems are old and have not been inspected or maintained, innocent commuters are the ones who pay the price.
The MBTA must follow state and federal safety regulations regarding inspections and maintenance services. When it fails to do so, it can be held liable.
Subway and Train Dragging Injuries Are Often Fatal
It is not difficult to see why injuries in these cases are almost always severe and sometimes fatal.
Accident victims who find themselves caught between the doors of a subway car or train car and then dragged, even for a short distance, are likely to suffer:
Broken bones
Crush injuries
Organ damage
Amputations
Paralysis
Head trauma and brain injuries
Post-traumatic stress disorder
The closed doors can cause broken bones or crush injuries at the point of impact. More severe injuries may occur while the transit vehicle drags the trapped person along the tracks.
In some cases, people have successfully extracted themselves from the closed doors and fallen to the platform or onto the tracks. Even then, significant injuries can occur from being stuck in the door, and additional injuries can happen in the fall.
Most people who survive these incidents sustain multiple serious injuries that require numerous surgeries and months or even years of grueling physical therapy. In addition, they may need pins and rods to hold their broken bones in place and may even be wheelchair-bound for an extended period.
People with head trauma, brain injuries, and spinal cord injuries may need care for the rest of their lives.
I Was Caught in Subway Doors and Dragged. Who Is Liable for My Injuries?
Depending on the facts of your case, multiple parties could be liable for your door-related subway or train dragging accident, including:
The MBTA
Subway or train operator/crew
Maintenance or repair companies
Equipment manufacturers
Because so much is at stake in these cases, it is to your advantage to team up with an experienced MBTA accident attorney. Please do not assume that the agency or its insurers will accept the blame for your accident and offer you a fair settlement. As our attorneys can tell you, the MBTA and any other at-fault parties might say the accident was your fault or claim that you are exaggerating your injuries.
In addition, a lawyer can help place a value on your subway or train accident injury claim. You do not want to undervalue your claim or let an insurance company dictate how much your claim is worth. Generally speaking, the amount of money you might recover will depend on your medical bills, time missed from work, and how your injuries have impacted your life.
You may be entitled to damages for:
Medical bills
Lost wages
Pain and suffering
Disability
Loss of quality of life
If a family member was killed in a subway or train accident, you might be able to file a wrongful death suit against any negligent parties.
Never accept a settlement from the MBTA or another at-fault party until you consult with an attorney. Once you sign your name and accept the terms of the agreement, you will be unable to pursue a claim against that party.
We recommend contacting an attorney as soon as possible after your accident because of the time limits involved. If you delay too long, you may miss your opportunity to collect financial compensation for your injuries. Unlike car accidents or slip and fall accidents, claims against the MBTA have a shorter statute of limitations. If you do not pursue a claim quickly, you may never get any compensation for your injuries.
The first thing that an experienced personal injury attorney will do is perform a thorough investigation and identify all potentially liable parties.
An attorney can obtain witness statements and collect video evidence that shows how the accident happened. In addition, a lawyer can get the MBTA's maintenance and inspection records, train and subway logs, and training documentation. This evidence could be key in showing how the MBTA acted in a negligent manner and caused your injury.
The MBTA has a duty to keep its subway and train cars in a safe condition for riders. For example, it must inspect and maintain vehicles according to a schedule.
The MBTA can also be held accountable for your accident if MBTA crew members are at fault for your injuries. For example, if the employees were under the influence of drugs or alcohol or ignored safety protocols, the MBTA can be held responsible. MBTA subway operators are supposed to check platform mirrors and stick their heads out of the cab window to ensure that the doors are free of any obstructions before leaving the platform.
Maintenance companies might share liability if they performed shoddy work.
Suppose the subway or train has a defective door. In that situation, you may be able to proceed with a product liability suit against the manufacturers of the doors and their component parts, including nonworking safety devices. A product liability suit holds the manufacturer of a product accountable for placing a defective product into what is known as the "stream of commerce."
Filing a lawsuit against the MBTA can be challenging, so you will need an attorney who has a history of handling public transit injury cases.
If you or someone you know has been dragged or injured as a result of an MBTA subway or train, contact the Boston transit injury attorneys at Jeffrey Glassman Injury Lawyers LLC at (617) 777-7777 for a free legal consultation or fill out our online form.