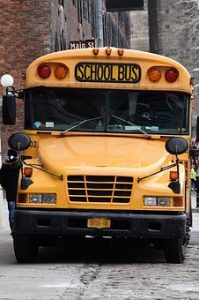 A man was caught on a dashcam video jumping onto the hood of a school bus on the Massachusetts Turnpike in Newton. That man is now facing summons on multiple charges.
The man is 42 and from Dorchester. His name has not been released by the police at this time. He is being charged with disorderly conduct, negligent operation of a motor vehicle, and more.
State police have also submitted a request that his license be suspended or revoked.
On Tuesday, the man stopped in the middle lane and the school bus was forced to stop behind the man's Corolla. The man then got out of the car and tried to get on the bus. The bus driver would not let him in, so he jumped onto the hood of the bus.
If we learn more about this story, we will update you.
If you've been seriously injured in a vehicle accident that was caused by the negligent actions of another person, you could seek compensation and assistance by filing a  personal injury claim. We want to help you recover compensation, and we have the experience to handle your claim.