On their way to the Bonnaroo music festival, two Indiana natives tragically lost their lives in a massive wreck in Tennessee, which authorities now say was caused by a semi-truck driver, who has since been cited with failure to exercise due care.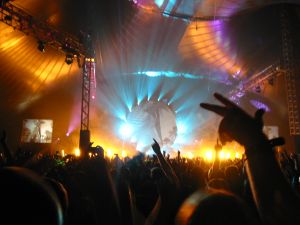 Our Boston personal injury lawyers know that roadway hazards caused by fatigued or careless truckers is just one danger confronted by concert and festival-goers, many of whom travel long distances to see their favorite musicians and performers throughout the summer.
Bonnaroo, held in Tennessee, is one of the largest weekend-long festivals in the country. But there are a number of others that are still coming up and at which attendance is expected at least in the hundreds of thousands. Among those:
Warped Tour, June 15 – Aug. 4, National Tour;
Newport Folk Festival, July 27-28, Newport, RI;
Lollapalooza, Aug. 2-4, Chicago, IL;
Electric Zoo, Aug. 3 – Sept. 1, Randalls Island Park, NYC;
Outside Lands, Aug. 9 – 11, San Francisco, CA;
Rock the Bells, Aug. 17-19, Aug. 24-24 and Aug. 31-Sept. 1, San Bernadino, CA, Mountain View, CA and Holmdel, NJ;
Burning Man, Aug. 26 – Sept. 2, Black Rock Desert, NV;
Made in America, Aug. 31- Sept. 1, Philadelphia, PA;
Austin City Limits, Oct. 4-6 and Oct. 11-13, Austin, TX.
In New England, regional festivals are popular draws through the summer and autumn months. While some patrons may spend the extra cash to fly in to their location, many are expected to make these trips by vehicle.
We understand that for many, the road trip is half the experience. We sincerely hope it is a memorable one – for all the right reasons.
Gearing up for long-distance travel means making safety a priority. Yes, the event may be all throwing caution to the wind, lowering your inhibitions and freely expressing yourself. But you have to make sure you and your friends get there and back safely. That takes some planning.
Consider the following before you head out:
Have your vehicle checked out. You need to make sure your vehicle is in good shape. The National Highway Traffic Safety Administration recommends that you take your car in for a full check-up. Have the mechanic check the belts, the hoses, the cooling system, the battery and the tires. Make sure to check your tire pressure regularly throughout the trip and keep an eye on your gas levels.
Know where you're going. If you're traveling far from home, you want to avoid getting lost or stranded. GPS is fine in areas with an strong signal, but you have to consider that this may not be the case, particularly if you are traveling in more isolated terrains. Take paper maps too just in case.
Figure out the best time to travel. If you can, avoid heavy traffic times and plan for inclement weather.
Have supplies in your vehicle in case you do get stranded. Have your car charger, extra food, water, blankets, tire repair kit, first-aid kit, flashlight and road flares.
Make sure you get enough sleep. We know you're excited and you want to get there. But the NHTSA warns that some 100,000 crashes annually are the result of drivers who are really too tired to be behind the wheel. If you take the risk of driving while fatigued, not only could you miss the show, you could suffer serious, life-long consequences as well.

If you are injured in an accident in Massachusetts, call Jeffrey Glassman Injury Lawyers for a free and confidential appointment — (617) 777-7777.
Additional Resources:
Local pair killed in fiery crash while driving to Bonnaroo, June 13, 2013, By Adam Tamburin, The Tennessean
More Blog Entries:
Bus Driver Pleads Not-Guilty After Boston Overpass Collision, June 5, 2013, Boston Personal Injury Lawyer blog