The New England Compounding Center (NECC) has been subject to intense public scrutiny in recent months and faces legal liability as a result of negligent practices that led to an outbreak of meningitis.
The job of NECC was to produce a compound steroid drug, which was sent throughout the United States and administered to the public. Unfortunately, NECC failed to follow sterilization procedures and failed to ensure that their steroids would pass sterility tests before sending the steroids to hundreds of medical facilities nationwide. The steroids were contaminated and when injected into people's spines to treat pain, they cause an outbreak of meningitis.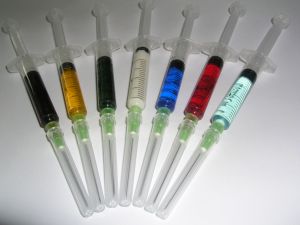 The outbreak was a devastating one, with 656 cases so far across 19 states. The outbreak also left 39 people dead as a result of contracting meningitis. NECC had to shut its doors and cease operation because of the dangerous product they released onto the market and they are now being sued by those who were injured or by the families of those who were injured.
The NECC case, however, is not over yet. Our Boston injury attorneys have updates.

NECC Trying to Hold Cleaners Responsible
According to CNN, NECC has stated that it intends to establish a fund to provide compensation to those impacted by the meningitis outbreak. Both injured victims and the family members of people killed by the meningitis will be able to recover compensation from the fund.
However, NECC does not want to bear the financial losses all by themselves. CNN reports that NECC claims the cleaning contractor responsible for cleaning their facility should also be held responsible and should share the blame for the meningitis outbreak. If this is the case, then the cleaning company could also be the subject of lawsuits.
Since NECC has declared bankruptcy, if the cleaning company is to blame, this would be helpful to injured victims of the meningitis outbreak who could file an independent action against the cleaning company rather than dealing with the bankruptcy court in order to take action against NECC.
The cleaning company, however, denies that it has any responsibility for what occurred. The company provides only once-a-month service. Since their job is to clean and NECC was the company responsible for the actual production of the compound steroid, it might be a stretch to assert that the cleaner was really at fault.
New Laws Aim to Prevent Further Outbreaks
As NECC and those injured by the outbreak try to work out who is responsible and what NECC will pay to compensate victims, the outbreak has also prompted some other legal action as well. This legal action comes from the governor of Massachusetts who, according to The Tennessean, has proposed changes to regulations governing compound pharmacies.
The changes would give greater power to the state board responsible for licensing compounding pharmacies. New rules would also change the composition of this board, which is currently dominated by registered pharmacists. Under the new proposed rules, a registered nurse, a pharmacy technician, three people from the public and a physician would instead sit on the board. Finally, compounding centers would not only be subject to more supervision by this board but would also be required to obtain special licenses to handle certain sterile compounds.
These changes, hopefully, could prevent serious public health crises in the future and could help to ensure that compounding centers like NECC don't do anything to put people in jeopardy.

If you or a loved one has suffered injury because of a defective drug in the Greater Boston area, contact the personal injury attorneys at Jeffrey Glassman Injury Lawyers, LLC for a free consultation to discuss your claim. Call (617) 777-7777.