According to a recent news feature from WOWT, an 11-year-old girl was on a ride in a carnival in Nebraska and suffered a severe personal injury.  Authorities say the young victim was on a ride known as the "King's Clown."  This was a spinning ride, and the trouble started when her long hair managed to get caught in the ride machinery as they were spinning around.  This carnival was being held as a Cinco de Mayo event.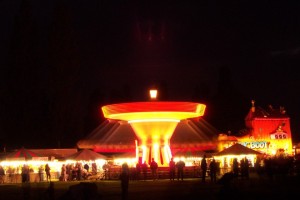 One witness, a friend of the victim, said her hair was very long and got tangled as they started spinning.  She said she saw what was happening but there was nothing she could do to help the girl, so she stood up and started yelling to "Stop the freaking ride!"  While the ride operator allegedly did not stop the spinning ride, a witness said that another child's mom saw what was happening and ran up to the control panel and the emergency stop button, which brought the King's Clown to a quick halt. 
The child's mother saw a child on the floor bleeding and ran to help her.  She had to use her hands to stop the ride as it had not completely stopped spinning, but had slowed down significantly.  She actually did not know it was her child at that point, but said she saw a child in need of help and ran out there do whatever she could.  It was not until she got closer that she realized the bleeding child was her own daughter.
She ran up to her daughter and told her that everything would be okay.  She said her daughter was asking if her pretty hair was okay.  At this point, other bystanders ran over to help and used their clothing to try to stop the severe bleeding.  The child soon passed out and first responders had just arrived and took her to the hospital.  At this point, she feared her daughter would not survive, and was not sure of the extent of her injuries, but it was obvious that her condition was very serious.
It has been reported that she is continuing to recover from this horrific accident in which her hair was caught in the ride and her scalp was ripped off.  The total extent of her injuries are unknown, as far as what the permanent damage will be if any.  The owners of the ride said they are cooperating with authorities and will do everything possible to find out exactly what happened.
After an accident at an amusement park or local carnival, is is important to speak with a Boston personal injury attorney as soon as possible, so he or she can have a private investigator go to the scene and conduct an independent investigation.  While this is not always necessary, in some cases it will be beneficial, and the ride will not likely be around for long, as most carnivals tend to travel around to different cities and towns.  They also tend to trade rides with other carnival companies when the need arises.
If you are injured in Boston, call Jeffrey Glassman Injury Lawyers for a free and confidential appointment — (617) 777-7777.
Additional Resources:
Girl continues recovery from horrific accident, May 8, 2016, WOWT, By Don Granese
More Blog Entries:
Summer Swimming Pool Safety in New England, May 15, 2014, Boston Personal Injury Lawyer Blog