Federal inspectors are now looking over the current safety procedures at the Bostik Chemical Plant in Middleton after a recent explosion and a four-alarm fire injured four workers. The cause of the explosion still remains unknown. Those four injured workers were sent to the hospital. Workers' compensation in Massachusetts is designed to cover their medical bills and lost wages while they recover.
Massachusetts workers' compensation attorneys would like to stress the process is not stress free — and many workers find it to their benefit to consult an experienced attorney to help ensure their rights are protected throughout the process. It is an employer's duty to provide a safe work environment. In a previous entry on our Boston Personal Injury Attorney Blog we noted that 2011 marked the centennial mark for the Massachusetts workers' compensation law.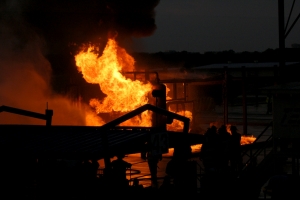 According to NBC 7, a decontamination tent was set up at the hospital for the injured workers because of the concern about hazardous chemicals. Several teams, including hazardous-materials and environmental protection teams, were called to the scene of the explosion to monitor air and water quality to avoid runoff into neighboring residential areas, where many rely on wells.
Authorities are now moving into the next phase of the investigation where third-party experts will be brought in to conduct chemical testing at the plant, reports Boston.com.
"OSHA (Occupational Safety and Health Administration) remains committed to protecting workers from toxic chemicals and deadly safety hazards at work; ensuring that vulnerable workers in high-risk jobs have access to critical information and education about job hazards; and providing employers with vigorous compliance assistance to promote best practices that can save lives," said In a message from Assistant Secretary Dr. David Michaels about the future of OSHA.
OSHA, established in 1971, has been dedicated to making the workplace safer. In 1970, nearly 14,000 were killed on the job — in 2009, approximately 4,000.

If you have been injured at work in the Boston area, contact Massachusetts Workers' Compensation Attorney Jeffrey S. Glassman for a free and confidential appointment to discuss your rights. Call 877-617-5333.