A pedestrian accident near Gillette Stadium left one driver behind bars.
According to CBS Boston, the accident happened just before 1:00 a.m. A state police officer was working detail at the New England Patriots game and was told by a passerby that there was an accident just down the road. The officer headed down Route 1 and saw a pedestrian lying in the middle of the road moaning in pain. The 30-year-old pedestrian had bruises, cuts and a broken leg.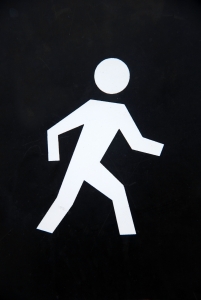 A trooper who was working a couple miles away saw a vehicle pass by with damage to the windshield and to the rear-view mirror. It was determined through police communication that this was the driver involved in the pedestrian accident back at the stadium. He was pulled over by the trooper and arrested from driving under the influence (for his second offense), leaving the scene of an accident and negligent operation.
Our Foxboro pedestrian accident attorneys enjoy the crowds surrounding New England Patriot games. Pedestrian accidents are more common during the evening hours anyway. When there are more fans along our roadways, the risks for these kinds of accidents skyrocket.
In Massachusetts, there were close to 50 pedestrians killed in traffic accidents in 2009. Most of these fatalities could have been prevented if drivers were to just pay a little more attention behind the wheel — and stay sober too! There were another 110 people killed in car accidents over the year in crashes involving at least one driver who was drunk at the time of the accident.
Before, during and after football games, we're asking everyone to be on the lookout. Fans will hitting our roadways (hopefully in celebration) and we have to make sure that our driving doesn't cause a needless accident. Drive carefully, keep an eye out for walkers and bicyclists and do your part to avoid a tragedy.
Pedestrians are asked to be safe out there, too. Review the following safety tips from the Commonwealth of Massachusetts:
-Only cross in a crosswalk or at a street corner.
-Keep an eye out for turning vehicles.
-Remember that fluorescent colors are extremely visible to motorists.
-Wear reflectors or carry a flashlight when walking at night.
-Never assume that a driver sees you.
-Avoid engaging in distractions while walking. Keep your eyes on the road and the traffic around you.
-Watch for vehicles backing out of parking spaces.
-If there is no sidewalk, walk along the shoulder, facing the traffic.

If you or someone you love has been injured or killed in a pedestrian accident, contact Massachusetts Accident Attorney Jeffrey S. Glassman for a free and confidential consultation to discuss your case. Call (617) 777-7777.
More Blog Entries:
Better Boston Sidewalks Help Keep Pedestrians Safe, Boston Personal Injury Attorney Blog, November 21, 2012
Pedestrian Seriously Injured in Sadbury Auto Accident, Boston Personal Injury Attorney Blog, October 26, 2012