Espinoza v. Arkansas Valley Adventures, a case from the United States Court of Appeals for the Tenth Circuit, involved a plaintiff who went on a summer rafting trip. Plaintiff hired a guide to take the family on a whitewater rafting trip in the Colorado Rockies. This trip also involved an overnight camping and rafting adventure through a popular stretch of the river known as Brown's Canyon.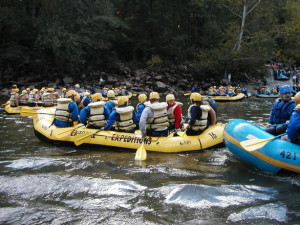 When it was time to go on the trip, she arrived at rafting outfitter's center and met with other participants who had signed up to go whitewater rafting that day. They were all given basic guidance on what they would need to do and were handed release of liability waivers to sign.
The following day, plaintiff was on the water trying to steer around a particular hazard on the river known to locals as "Seidel's Suck Hole" when the raft was overtaken by rapids and capsized. All of the other occupants of her raft were quickly pulled to safety, but for some reason, plaintiff was caught in a strong current and thrown into a logjam in the river. She was unable to pull herself out, and by the time help arrived, she had drowned.
After her death, her son filed a wrongful death lawsuit against the rafting outfitter alleging negligence per se and fraud, among other things. Negligence per se is a legal doctrine that allows a plaintiff to present a case of negligence by showing that the conduct in question was against the law or against regulations. This means that it may not be necessary to establish a specific legal duty and breach of that legal duty, as would be necessary in a typical negligence cause of action without a negligence per se claim. However, this is a rather complicated issue and may or may not apply in your actual case, so you should ask your Boston personal injury attorney about this during you consultation.
In Espinoza, defendant filed a reply asking that the case be dismissed because plaintiff had signed waiver limiting the defendant's liability in the event of a serious or even fatal accident, as was the case here. The district court agreed with defendant that plaintiff had signed a waiver and entered a judgment in favor of the defendant.
At this point, plaintiff appealed to the United States Court of Appeals for the Tenth Circuit, and the court looked at the issue of whether the release was effective in barring plaintiff from bringing a negligence cause of action against defendant. First, as the court noted, there is no question she signed the release.   This mainly came down to an issue of what is the best public policy in the state, and the court used a precedential case on determining a test for public policy.
One of the major things in determining if something is good public policy is to examine whether the conduct is legal under the state code of laws. As it turns out, in this state, rafting companies are required to operate in a manner as to avoid careless or imprudent behavior, and if they violate this law, they can be subject to being arrested for a misdemeanor. However, finding no reversible error, the court agreed with the lower court and affirmed the grant of summary judgment.
If you are injured in an accident in Boston, call Jeffrey Glassman Injury Lawyers for a free and confidential appointment — (617) 777-7777.
Additional Resources:
Espinoza v. Arkansas Valley Adventures, January 6, 2016, United States Court of Appeals for the Tenth Circuit
More Blog Entries:
Wilkins v. City of Haverhill – Massachusetts Supreme Court Weighs Slip-and-Fall Claim, May 23, 2014, Boston Personal Injury Attorney Blog