Carlson v. Town of South Kingstown, a case from the Supreme Court of Rhode Island, involved a plaintiff who was injured at local little league game.  According to court records, the plaintiff went to a little league game at a field maintained by the town.  She was there to watch her son play in the baseball game.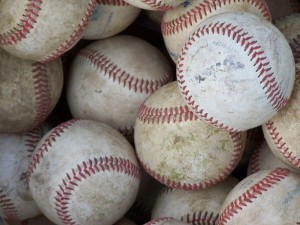 Plaintiff had been standing at a chain link fence that separated her son's team's dugout from the batting cage where pitchers could warm up during the game, so she could see what was happening.  After the game, when she went to meet her son in the dugout, she testified that she felt her foot fall into a hole or divot in the ground.  When her foot fell into the hole, she suffered three separate fractures in one leg.
As part of the plaintiff's case in chief, she called a former assistant coach to testify.  While he did not actually see the plaintiff fall, he testified that he was aware of the divot in the walking area and estimated it to be about eight inches in width and about as much as ten inches deep.  He also testified that these divots happened frequently and were caused by players twisting the foot of their cleats into the ground while waiting for their turn to bat in the cage.  Essentially, they would mimic they way major league players dig into the batter's box before every at-bat.  However, these holes were not being filled in every day like at a big league ball park, and eventually the holes would get to nearly a foot deep.
He also testified, while he did not know exactly which divot she fell into, he did know they had been filled in a long time ago, but had not been repaired in quite some time.  This is an important element in premises liability cases, because it shows that a defendant had knowledge of a potentially dangerous condition, and, as a result of the condition, a foreseeable person (little league parent) was injured in a foreseeable manner (having her leg fall in the divot).
However, after she filed her case, defendants moved for summary judgment, asking that the case be dismissed.  The town first moved for dismissal under a state statute the exempted local governments from being liable for personal injury that occurs a public recreational facility such as a little league field.  This motion was granted, and plaintiff appealed.  The court affirmed the trial court's dismissal pursuant to the authority of the relevant state law.
The other defendant, which was the little league organization, argued that they were not liable, since they only used the field and were not the owner.  Under this theory, they owed no duty to plaintiff with respect to the condition of the property, since they were merely a user.  While the court ultimately agreed with the trial court on this issue as well and affirmed the dismissal, one judge did dissent, arguing that little league should be liable since it was their players who actually caused the dangerous condition, and they were well aware of it and failed to warn anyone.
If you are injured in an accident in Boston, call Jeffrey Glassman Injury Lawyers for a free and confidential appointment — (617) 777-7777.
Additional Resources:
Carlson v. Town of South Kingstown, February 5, 2016, Rhode Island Supreme Court
More Blog Entries:
Wilkins v. City of Haverhill – Massachusetts Supreme Court Weighs Slip-and-Fall Claim, May 23, 2014, Boston Personal Injury Attorney Blog