When transvaginal mesh products came on the market, manufacturers sold the products as a cure or treatment for pelvic organ prolapse and stress urinary incontinence. The hope was that the mesh products would make correcting these medical problems easier. Unfortunately, the products haven't lived up to the promises made by manufacturers. In fact, transvaginal mesh products turned out to be very dangerous and to create many unpleasant side affects.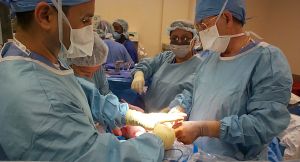 Our Boston transvaginal mesh lawyers know that many different manufacturers produced transvaginal mesh products that have been causing harm to patients. One such manufacturer is Boston Scientific. Boston Scientific had its first transvaginal mesh product approved in 1996 and has numerous products on the market, many of which are causing problems and leading to lawsuits.
The Boston Scientific Transvaginal Mesh Products
While a lot of attention is given to transvaginal mesh products by big name manufacturers such as Johnson & Johnson, Boston Scientific too is being sued by many patients and played an important role in bringing the dangerous mesh products to widespread use within the U.S. market. In fact, it was a Boston Scientific product that paved the way for other transvaginal mesh devices to be sold.
Boston Scientific's first transvaginal mesh product approved in 1996 was called Protegen. Protegen was intended as a treatment for stress urinary incontinence, which is a condition wherein the weakening of the bladder muscles make it difficult for a woman to control her urination.
Prior to the release of Boston Scientific's transvaginal mesh product, stress urinary incontinence was treated by using sutures to lift sagging organs. No implants or mesh products were used. Protegen changed that and doctors began to adopt the use of the Protegen product because of a belief that it would provide additional support and allow for better outcomes for patients.
Boston Scientific subsequently followed up its original release of Protegen with other bladder sling and pelvic mesh products including the:
Prefyx PPS Pelvic Sling System.
Soloynx SIS Vaginal Sling System.
Lynx Suprapublic Mid-Urethra Sling
Advantage Fit Transvaginal Mid-Urethral Sling System.
Pinacle Pelvic Floor Repair Kit.
Unfortunately, problems soon began to develop. In 2003, Boston Scientific was sued based on complications and side effects developing as a result of Protegen. Boston Scientific decided to settle 738 of the lawsuits arising from Protegen problems.
Even after settling, however, Boston Scientific did not pull all of is transvaginal mesh products nor was much additional investigation done into whether TVM products were safe for use. Instead, not only did Boston Scientific keep right on enticing patients to use Transvaginal Mesh but also other manufacturers jumped on the bandwagon and started selling mesh products of their own.
Many of the manufacturers who came out with transvaginal mesh products did so with minimal testing of their own medical devices. The manufacturers got away with this because the FDA has an expedited approval process called 501(k) clearance that allows a product to be released without the normal rigorous clinical testing that is usually required.
Products can be released using 501(k) clearances provided that there is an existing product that is substantially similar. The Boston Scientific product, Protegen, was the product that was used by the manufacturers seeking 501(K) clearance. It was the basis, therefore, of the approval of a class of TVM products that have caused untold harm to patients worldwide.

If you are a patient who received a transvaginal mesh implant in Massachusetts, call Jeffrey Glassman Injury Lawyers for a free and confidential appointment — (617) 777-7777.
Additional Resources:
Transvaginal mesh defect Results in Multi-Million Dollar Verdict, Boston Personal Injury Attorney Blog, March 23, 2013.